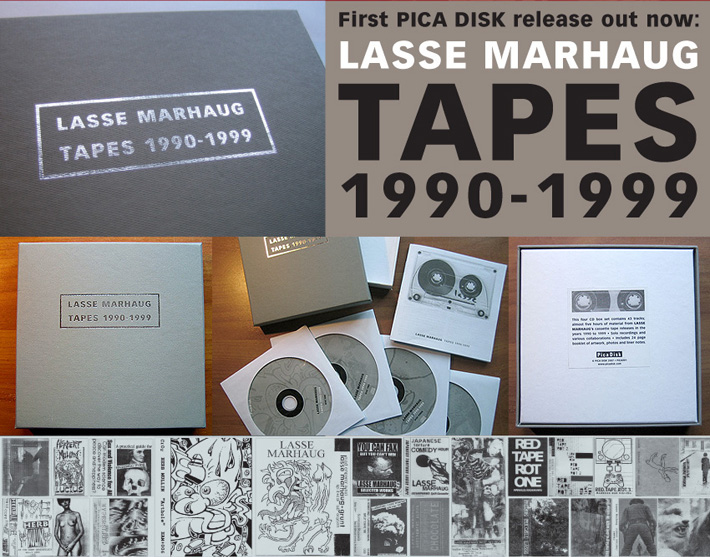 Lasse Marhaug: Tapes 1990-1999

Pica001. 4 CD box-set, with silver print and 24 page booklet. Released summer 2007.

Lasse Marhaug released between 60 to 70 cassette tapes in the 90-ies. These tapes were released in limited quantities in the noise/metal underground and have been unavailable for years, so for many this will be the first time to hear this music. From the early cut-up voice and turntable experiments, to the later full-on wall-of-sound scrap metal noise. Mostly solo work (none of Marhaug's work with Origami Replika is represented), but there's also collaboration tracks with artists like Macronympha, Grunt and Bad Kharma.
All tracks selected by Marhaug himself, after carefully going through and digitally transfering all of his cassettes from the period, and remastered by Tommi Keränen.
Packaged in a handsome custom-made box which comes with a 24 page booklet of photos, cover reproductions and liner-notes by Tommy Carlsson (Abisko, Segerhuva) and Tore Honore Bøe (Origami Republika, The Nordic Miracle); both old friends of Lasse and long-time champions of the cassette format.
When I listen to the four discs in this box, it strikes me that there is so much of Lasse's solo recordings that I have yet to hear. This box definitely fills a huge hole in my collection. Lasse is a talented lad, and his creativity is very often put to good use in various collaborative works, and a large number of constellations. However, I am most fond of his solo recordings. Maybe you will be too, after having indulged in this avalanche of 1990's Marhaug recordings. A retrospective showing quite clearly how Lasse has chosen his path, and how he merrily skips along said path. Finding his own method of expression, his own language. Free in mind, free from dogma, free from self-imposed limitations.
(from Tommy Carlsson's liner notes)

Reviews:

Lasse Marhaug - Tapes 1990-1999

Norway and "extreme" music. I know what you're thinking: black metal. Well, this isn't Lasse Marhaug's lost "metal" archive. But the Norwegian noise architect – who's been called the Nordic Merzbow – makes music as frosty, intense, and relentless as Burzum or Darkthrone. There's something about the temporary, almost fragile form of magnetic tape that's quite appealing. Everyone reading this can remember the simultaneous horror of a beloved recording being mangled by spools, even as we marvel at the fantastic, otherworldly sound the destruction created. (And yes, the metaphoric possibilities here are endless.)
Marhaug – who has received more notice of late, due to his involvement in ensembles like Ken Vandermark's Territory Band – is a specialist in such experiments with loss and damage. This four-disc set (mostly solo Marhaug, though there are several tracks where he collaborates with folks like Bad Kharma) is no mere nostalgia trip, no exercise in wistful remembrance of some "good old days." It's fresh, disturbing, and very, very fun. Some tracks are cavernous, groaning, and sound like the end of all things. Others are more dense, playful, and referential, crammed with multiple sound sources piling into each other like highway wrecks. Muffled or blaring, percussive or spacious, hellish or more hellish. Some of it, like "Untitled #1," is just unbelievably caustic and teeth-rattling – like Sheer Hellish Miasma but years earlier.
This is the kind of richly imagined music that powers up language, a sound so alien and so completely itself that its violence and unfamiliarity convey very direct and coherent, if improbable imagery. This is most true on the longer pieces, which sound to me like extended field recordings assembled in a land of angry machines – they shriek and drone in rapid shifts like two mechanized boxers. On tracks like "Noise Ninja," Marhaug layers these effects and creates a towering edifice of noise.
But just as you start to appreciate the craft and the detail… POW! This stuff is just relentless, like a revenant howling to break free of its mechanized confines. "Untitled #4" sounds like mutant horns – shofars, a tag team of Albert Aylers, and a wheezing beer hall band – run through beat up analog processors. You almost feel sorry for the mutated source materials, so distorted and transformed that they sound like the aural equivalent of a disfigured corpse (for a quick study in effaced identity, listen to the old timey voices buried beneath "The Girl Who Always Eats Chocolate"). Listening to each of these hour-plus discs leaves you dizzy, but somehow energized by precisely the harshest moments: the huge chorus of struck metal on "Wish You a Merry Christmas," locked into a construction-site drill riff, repeating endlessly in your skull; "More Guts Than Brains," which is like a blast of glaring, harsh light after being entombed for a while; or the mutant industrial music, deconstructed and reassembled, of "Miss Plastic Murgatroid's Red Metal Wet Dream" (all amplified metal, like rusty screwdrivers contact mic'd and used on excited strings and space fossils).
How, then, to make sense of five hours of noise that at times beggars description? The power, depth, craft, and vision of these pieces are impressive. Nothing about this music sounds dated, in fact. I guess if you wanted to sum it up, you could look to "Kommer og Gar," which features a stilted voice quoting Baudelaire: "There is no forgiveness without bloodshed." Then again, maybe it's as simple as the brief spasm on the final disc, aptly entitled "I Like Violence."
By Jason Bivins (dustedmagazine.com)
Lasse Marhaug, "Tapes 1990-1999"
Norwegian noisehead Lasse Marhaug clearly has an affinity for the cassette tape and the underground culture that went with it. So I have no doubt he compiled Tapes 1990-1999 with some sense of trepidation, going from that lo-fi handmade scene to the world of professionally manufactured digital recordings. At the same time, however, it is a testament to his art and talent that those hand dubbed tapes are now being presented as a beautifully packaged four disc boxed set, complete with a 24 page booklet of essays and reproductions of tape artwork. Picadisk
In the early days of the noise "scene," cassette tape was the great equalizer. Unlike pressing vinyl or CDs, anyone with a cheap recorder and a few bucks could release an album, usually complete with low resolution photocopied artwork. Nostalgia aside, few people could really claim to miss the hissy low fidelity sound, the unreliability of most tape decks (nothing worse than getting a brand new tape "eaten"), and even on the artist end, surely the speed of modern CDR burners is a godsend when compared to the length of time it took to do real-time dubs.
While the fidelity of noise recordings may seem oxymoronic to some, the tracks across these discs sound very clean and clear. Sequenced in chronological order, the first disc captures his early work as Herb(ert) Mullen (and a few tracks as Egoproblem). This early material shows a novice at work, sometimes sustained fuzz roar ("Untitled") to spastic tape splicing of belching, random speed metal and dialog bits ("Delirium Acutum"). Other experimentation is notable too, such as the junk percussion of "Skinpeel" and the minimal static meditation of "Out."
By the second disc Marhaug was using his own name, and had found his voice in the noise world, delivering brutal, subwoofer scraping noise exemplified on "Monster," which, at 28 minutes, takes up nearly half of the disc. This is not easy listening, but it is noise done right, full of channel-panning brutality and a subtle hint of texture that rewards repeat listening. Disc three shows him stretching his legs again and trying new things, retreating from sheer brutality to more experimentation, such as the mutilated jazz loops of "Untitled #2" and the silly tones of "Wish You A Merry Christmas."
The last disc (and most recent work) also shows this penchant for experimentation. The destroyed cheesy beat box loops of "Side B" are neither consistent with the in your face percussion of Wolf Eyes, nor are they at all reminiscent of anything vaguely labeled "electronic." The bizarre rhythmic loops of "Untitled" are similarly difficult to classify. There is no identifiable percussion sound but a rhythm is discernable nonetheless. The full on eardrum shattering noise is present as well: the full 20 minutes of "Miss Plastic Murgatroid's Red Metal Wet Dream" is well equipped to contribute to hearing loss for those who choose to go down that path.
The idea of five hours of pure noise might seem extremely daunting to all but the most hardened of harsh noise heads, but in truth, Marhaug's diverse approach to sonic destruction makes it more than just a pleasurable listen. Tapes is great opportunity to hear a prolific artist hone his craft, and is a great set as well. It's plenty harsh and painful as well for the biggest noise fans, complete with the power to alienate neighbors and friends.
(Creaig Dunton, brainwashed.com)
Lasse Marhaug: Tapes 1990-1999
Den gode, gamle kassetten har gradvis gått fra å være et musikkformat på linje med vinyl og CD til å bli DIY-plateselskapenes bestevenn. Lave kostnader, lett tilgjengelighet og et stort potensiale for kreative innpakningsløsninger har ført til en overflod av utgivelser av sterkt varierende kvalitet, som oftest godt plantet innenfor sjangre helt på utkanten av mainstreamen - støymusikk, for eksempel. Kassettene gis som regel ut i latterlig lave opplag, og bare et halvt år etter utgivelsesdato kan de være plent umulige å få tak i. All honnør bør derfor gis til Lasse Marhaug for at han nå velger å la et knippe gamle kassettutgivelser stå opp fra glemselen, spesielt når kvaliteten er såpass slående som den er her.
Tapes 1990-1999 er som tittelen tilsier et utvalg innspillinger fra Marhaugs ni første år som aktiv støyartist. De fire diskene er stappet til bristepunktet med musikk, og kommer huset i en luksuriøs boks som også inneholder et 24-siders hefte med to korte tekster, reproduksjoner av de originale omslagene og litt informasjon om hvert spor. Navn som Government Alpha, Macronymphia og Grunt dukker opp som samarbeidspartnere, noe som burde være nok til å få enhver kjenner til å fråde om munnen.
Den første disken dekker det lengste tidspennet, og er også boksens virkelige skattekiste. Skivas sytten spor dekker de fem første årene i Marhaugs karriere, da under pseudonymet Herb Mullin, og viser at Marhaugs støy helt fra starten av var fokusert og velutført. Skiva er innom alt fra dystre uværsskyer av bunnfrekvenser via lo-fi tapeloops til spastiske lydcollager, alt utført med en sjarmerende hjemmelaget estetikk og en real dose pause-startknapp-redigering. Glimrende saker, og både bredden og kvaliteten i materialet imponerer stort.
På den andre disken har Marhaug funnet stilen sin: Tung og brutal ekstremstøy levert i et heseblesende tempo, med få eller ingen pustepauser. Det er veldreide saker, men sammenlignet med den første skiva mangler den store variasjonen, og sytti minutters brutal harsh noise avsluttet av et 28 minutter langt samarbeid med sexstøyeren Macronymphia er en utmattende opplevelse som kun veteranene vil komme tilbake til. Om lyttingen brekkes opp i et par biter blir det straks mer lettførdøyelig, men disken som helhet faller fortsatt litt mellom to stoler – musikken er hverken like velutført eller variert som den på disk tre og fire, eller like historisk interessant som den på disk en. Marhaug utvider reportoaret sitt betraktelig på de to neste skivene, og materialet er for det aller meste både involverende og variert. Støy står fortsatt øverst i hovedssetet, og utvikles til å bli mer og mer finurlig strukturert, involverende og teksturelt spennende. Noen steder fusjoneres støyen og andre musikksjangre, som på Ferecius Dopes-samarbeidet Side B fra disk fire, hvor knusende bassfrekvenser og hyperaktiv kutt-opp-støy legges over en hakkete trommerytme. Et annet høydepunkt er Miss Plastic Murgatroid's Red Metal Wet Dream, et nitten minutter langt mesterverk i smertefulle frekvenser, psykedeliske oscillasjoner og heseblesende bevegelse det virkelig ryker etter.
Samtlige CD-er klokker inn på rundt sytti minutter, noe som tilsier rundt fem timers spilletid totalt. En riktig gigant av en utgivelse med andre ord, og selv om innpakningen er ryddig og pen er det en kranglete og voldelig musikkopplevelse som venter en når man stapper en CD i spilleren, som med det meste som bærer Marhaugs navn. Det er mye å hente her, også for lyttere med bare en flytende interesse i sjangeren - den første disken i særdeleshet presenterer trolig noe av den aller første støyen som ble innspilt i Norge, og er derfor et viktig dokument i historien om en av våre mest berømte musikalske eksportvarer - men det er tydelig at dette først og fremst er en utgivelse for fansen, enten det er av Marhaug spesielt eller av støymusikk generelt.
Og sett fra det ståstedet er Tapes 1990-1999 bortimot perfekt. Nydelig innpakning, fin (dog noe varierende) lydkvalitet og ikke minst kvalitetsrikt støy som makter å være spennende både fra et musikalsk og fra et historisk synspunkt er ikke dagligdagse saker, spesielt ikke i det volumet den presenteres i her. Tommy Carlsson skriver i det medfølgende heftet: "No Lasse, no Norwegian noise." Vel, det er godt mulig den ville oppstått før eller siden uten ham, men det er svært tvilsomt at den ville vært like bunnsolid og sunn som den er i dag uten Marhaug ved roret.
(Emil Øversveen, hissig.no)

Lasse Marhaug: Tapes 1990-1999 - PicaDisk PICA 001
Lasse Marhaug bor inte på Myspace. Istället har han byggt ett litet slott med skivbolaget PicaDisk, vars första utgåva består av honom själv på längden och tvären. "Tapes 1990-1999" är en generös box med återutgivningar av hans musik från 90-talet, då distribuerade på kassetter i minimala, sedan länge utgångna upplagor.
Fyra cd. Fem timmar extrem noise. Ingen sak för den som redan har "Merzbox", Merzbows legendariska 50-cd-samling. Ändå svårsmält för flertalet. Hur förklara skönheten i rundgång, brus, slammer, oljud? Masami Akita (Merzbow) gav en gång svar på tal: "If 'noise' means uncomfortable sound, then pop music is 'noise' to me." Kanske är det så, bara en fråga om smak.
De som hört Lasse Marhaug live vet att han gillar starka ljud. Redan i tonåren var han inne på det fysiska med konkreta ljud att ta på, ljud som invaderar och beter sig i kroppen. Den första låten i boxen, "Untitled" från 1990, gjorde han som 16-åring. Den börjar som ett långt, utdraget oväder med tjutande stormbyar innan en inklippt röst avbryter, och sedan tillbaka in i stormögat. Det tidiga materialet är oslipat och utan manér, utan fejkad attityd som skymmer denna lust att töja på yttrandefriheten och maximera ljudens beståndsdelar. Det som hörs är en mycket passionerad ung man besatt av att utforska noisens hela palett.
Numera ser man ofta Lasse Marhaug hukad över en laptop. Men i låtarna från de första åren av 90-talet arbetade han ofta med bandkollage som fogats ihop med kassettspelare och effektboxar. Det är unga avtryck i en terräng av skir experimentalism. Marhaug bråkar med tekniken, leker och upptäcker, klipper och fogar samman fragment. Förvånansvärt mycket av det tidiga materialet kan sorteras under ljudkonst – vissa låtar är så fria i formen att jag kommer att tänka på Nam June Paik eller praktnaivisten Jean Dubuffet, även om Marhaug är långt stökigare och mer aggressiv.
Variationen i uttryck och ljudkällor är stor under det tidiga 90-talet. Det var som bekant en speciell epok, kulmen av D-I-Y och den slags bandmusik som började med postpunken ett drygt decennium tidigare. För Lasse Marhaug verkar kassettbandet rymma en estetisk kvalitet snarare än att bara vara ett praktiskt medium för billig distribution i små volymer. Låtnamnen talar för sig: "Music on Tape". "Bullet in the Tape". "Red Tape Rot".
Överlag låter det inte bara skitigare än cd-kvaliteten, här saknas också dagens muskliga kompressorer och mastringsmöjligheter. För just noisemusik är brusande kassetter inget problem, tvärtom ger det lyssnaren mer av ljud att lyssna på nära, nära. Som låten "Imortal, Unchained, Dumb" (1993) med fläckiga kaskader av vitt brus insprängt i korta klipp från tv-filmer. Eller "On-Off" (1995) med gungande sprakexplosioner på en lyrisk matta av porlande vatten. Trots svaj och brus låter det magnifikt, särskilt i hörlurar.
Boxen presenterar låtarna kronologiskt. Jag gillar det. Man kan höra hur Marhaugs experimenterande tar nya språng längs den musikaliska livsväg han valt. Jag kan imponeras av envisheten. Att han hållit sig så strikt till noisens grundpelare och nästan aldrig släppt loss i melodi eller harmonik och bara sällan laborerat med rytm (i vanlig mening). Nej, det handlar om klangfärg. Och Marhaug är tveklöst en av noisemusikens allra känsligaste målare.
Många låtar går i vitt brus och gör skitont: "White Inferno" (1996) är elak även på låg volym, det är "Metal Machine Music" från sovrummet. "Noise Ninja" är en hårdpressad laserstråle. Den nästan trettio minuter långa "Monster" – kassettbanden var ju som gjorda för noisens långa, inte sällan självalstrande no-input-experiment – är en svettig, sårig, bubbligt skrattande överdos av elektricitet. Visst kan det ibland låta som tortyr av grannens katt, men det är ett misstag att inte notera humorn och det livsbejakande i Lasse Marhaugs musik. Själv började jag vissla på ett par låtar. Inte av vanära, bara stimulerad. Sympatiskt nog har Marhaug varken i inspelningar eller på scenen frossat i kinky sex, blod och död. Låttitlarna skvallrar däremot om intresse för mat – choklad, glass, kött, kyckling – men det kan förstås vara dimridåer.
Med tanke på att noise är en rätt självförklarande musikgenre – man får i stort sett vad man lyssnar till – är det inte mycket att säga om undertexter till musiken i boxen. Däremot märks det år för år hur Marhaug blir alltmer skicklig på att kontrollera sina ljudkällor och styra ljuden dit han vill. Eftersom noise till så stor del handlar om att kontrollera kaos och det oväntade – i motsats till noterad musik som strävar efter att återges så som den spelades in – ligger storheten i att arbeta fram och hantera sin valda ljudmassa. Det är kompositionella egenskaper som hade värderats högre i andra musikvärldar, men nu lirar ju noisen i en annan division än konstmusiken.
Som noisemusiker sysslar Marhaug inte med toner och kan därför inte gärna kallas tonsättare, men i det oerhörda kreativa flöde han vistats i de senaste decennierna – utgivningen lär luta mot bortåt 200 titlar – är det synd att hans musikerskap inte är mer känt.
Live förmedlar han alltid uppriktighet, hängivenhet, konsekvens. Fokuseringen hör jag rakt genom boxen, passande nog vikt en lyssningseftermiddag med regn, regn, regn. Marhaug har hållit kursen, trots avstickare till metal, jazz, ljudkonst och musik för scenkonst. Och, inte att glömma, rock! Om något är Lasse Marhaug en rocker, en trasher av ljud och ibland utrustning. Kraften som alstras live måste ta vägen nånstans. Det är samma energier man kan uppleva på en Wolf Eyes-konsert. Glad, positiv aggressivitet.
Som trampolin ned i den ymniga Marhaug-floden är "Tapes 1990-1999" kanske inte den bästa väg som kan rekommenderas. Börja istället med hans mästerliga "The Shape of Rock To Come" (2004). Den röstades faktiskt fram som nummer 19 i Dagsavisens lista på de 30 bästa norska skivorna någonsin. Gå därifrån vidare antingen via hans solokarriär eller via de många samarbetena. Jazkamer förstås, det ständiga samarbetet. Eller med Fe-Mail, The Skull Defekts, Nash Kontroll, i duos med Frode Gjerstad, Alexander Rishaug, Maja Ratkje, Paal Nilssen-Love. Vik därefter öronen åt "Tapes 1990-1999". Om de 500 exemplaren av boxen tagit slut, köp en kassett.
(Sven Rånlund, Sound of Music)
Lasse Marhaug
»Tapes 1990-1999«
»No Lasse, no Norwegian Noise.« Stichhaltiger hätte es Tommy Carlson in den Linernotes von Lasse Marhaugs neuester Veröffentlichung, der imposanten CD Box »Tapes 1990-1999«, kaum ausdrücken können. Auf insgesamt vier Tonträgern präsentiert Marhaug eine Zusammenstellung seiner jugendlichen Musikexperimente, die alle ursprünglich auf dem in der Noise Szene so beliebten Speichermedium, nämlich der Kassette, erschienen sind. Jene frühen Veröffentlichungen spiegeln bereits die stilistische Vielfältigkeit Lasse Marhaugs wieder, die einen festen Bestandteil seiner heutigen Arbeiten ausmacht.
In einer Zeit, in der die stürmischen Angriffe des norwegischen Black Metals ihre kreativen Höhepunkte feierten, begann Lasse Marhaug die mannigfaltige Klangsprache der Noise Musik zu erforschen. Obwohl er bekennender Metalfan ist und damals auch Kontakt zu seinen satanischen Landsmännern unterhielt, weisen keine der auf der Kompilation enthaltenen Arbeiten klare Referenzen zu den extremen Spielarten des Heavy Metals auf. Lediglich die Gestaltung der Coverartworks, die im Booklet alle ausführlich abgedruckt wurden, lässt seine Affinität zu jenen metallischen Klangstürmen erahnen, zeichnet aber auch eine starke Verbundenheit zu der verstörenden Ästhetik des Industrials. Lasse Marhaugs musikalische Programmatik gestaltet sich allerdings weitaus vielschichtiger. Es steht natürlich völlig außer Frage, dass auch die typischen Klangextremismen der Noise Musik nicht fehlen dürfen. Neben der statischen Unerbittlichkeit rauschender Klangwände stößt man ebenso auf die die obligatorischen Lo-Fi Recordings – schmutziges Audiomaterial, dessen miserable Aufnahmequalität wie eine verunreinigte Wunde unnachgiebig Eiter auszustoßen scheint. Obwohl diese Stücke von einer konzeptuellen Simplizität durchdrungen sind, geht Lasse Marhaug mit einer akribischen Genauigkeit ans Werk und präsentiert einen virtuosen Umgang mit Klangtexturen und ihrer psychoakustischen Tragweite. Besonders eindrucksvoll sind aber seine frühen Turntable Experimente. Wilde, unberechenbare Klangcollagen aus kreischenden Saxophonen, klirrend übersteuerten Metallschlagwerken und Einspielern aus Gesprächsfetzen und Umgebungsgeräuschen. Ferner zeigt er ebenso seine Vorliebe für minimalistische Seitenhiebe aus kreischenden Feedbacks oder repetitiv pulsierenden Patterns, als auch seine Passion für Kollaborationen, die meistens von historischer Signifikanz sind. Zeigen sie doch Lasse Marhaug in Zusammenarbeit mit Musikern, die bereits auf eine ausführliche Lärmbiografie zurückblicken konnten.
»Tapes 1990-1999« ist eine gelungene Dokumentation eines Musikers, dessen künstlerisches Schaffen aus der kontemporären experimentellen Musik, sei es norwegischer oder weltlicher Provenance, nicht mehr wegzudenken ist. (Raphael Smarzoch, Spex)

Lasse Marhaug - Tapes 1990-1999(Cd Boxset) [Pica Disk - 2007]
This impressive Boxset brings together a selection of almost five hours of Norwegian noise maker/ soundsmiths Lasse Marhaug tape work over a nine year period. And it highlights his changing sound, different sound experiments and above all his inventive, clever, distinctive take on the noise genre that has made him one of the scenes most respected and critically acclaimed figures.
The four disk come inside a nice classy grey box with silver blocked title. Inside you get the four disks each inside there own paper sleeves and 24 page booklet with introductions from Tommy Carlsson (Abisko,Sugerhuva) and Tore H. Bøe (Origami Republika, The Nodic Miracle). The bulk of the booklet is taken over with the interesting,often bizarre and comical selves from the original tapes.
The first disk offers up seventeen tracks with varying running of one to six minute a piece with only one track going over the ten minute mark. The first disk mainly concentrates on Cut-up media and turntable collages. Sourcing from films, TV, stuck music elements and low grade noise elements. But it's clear from these early stages Lasse had an ear for sound and how to place it in an enjoyable often surprising manner. This really side steps a bedroom project and present the listener with real audio art collage work. A few stand out moments would be the effective and eerier opener Untitled, from Zonked Scum Demo,which is made of great wind storm and bizarre beast roaring sounds. Giving the feeling of walking in some creepy snow cave and been followed by something, underneater the noise you can just make out almost-gone clunking doomy piano notes. Urethra which utilized coin feeding sound and speeds up and randomizer them, before adding in cut-up microphone buzz, muffled voices & scrunching sounds ect, all making a very enjoyable grey but darkly funny track. But these are really the tip of the iceberg as there so many enjoyable and varied tracks on offer here.
The second disk offers up six tracks and show him lengthening his tracks with a lot nearing the 10 minute mark and the last track Monster clocking in at near half an hour. This disk seems to see lesser use of recognisable media samples, more use of guitar and noise to sculpture the tracks, again with a real ear for building up sound textures and placing surprising and entertaining juxtaposition of sound with-in the tracks. It goes from; roaring storms of different textured static, to grey chugging guitar/electronic craft, to streached /bent clouds of voice muffle, to eerier and choking feed back buzz and cloud, to bellowed and chopped up rumbling tones, to rhythmic like static bashing and rolls of sound. The last track Monster been a highlight here as it bashers you through static and rumbled voice tones, with angler streached and bends of sound appearing like roaring oceanic Juggernaut's. Side steeping into rhythmic cluster of metallic sound, overload by billow roars and fog-horn call, before building up impenetrable electric feasting and ripping tones.
Disk three presents another ten track with a good mix of shorter and longer tracks. And it sees a slight return of more recognisable media elements, like sampled and morphed and melted easy listening loops, bent and overloaded Christmas jingles and drum patterns. But it also sees the tracks really boiling and seething this is noise at its most powerful, deadly and artistic. A lot of the tracks having a grab-your-throat urgency as Lasse cuts his noise craft into rhythmic choppngs, static storm overloads and melt you face audio cookings, but always with really artistic sound understanding, these tracks are moulded and developed then let loose to cause real terror.
Disk Four again features 10 tracks and another nice mix of shorter and longer tracks. Again a collection of varied and original noise craft going from ; bent sinister and speed up guitar atmospherics, to crawling whining noise loops, to bellowing static storms under run by strange rhythmic chatters, to laser sighted pulse grinds that boil in to creative phrase punches and hits. It's as good and varied as all the disks here. Amazingly enough over the massive near on five hours running time of the whole set, there are really no miss step or dud throw away moments.
One of the most important noise document to be released by one of the worlds premiere noise artist. Clearly one of this years noise releases and if your noise fan and don't already have this you really have to ask yourself why? (Roger Batty, www.musiquemachine.com)
Lasse Marhaug
«Tapes 1990-1999»
Pica Disc
Støyens mester
Et tiår med kassetter har samlet blitt til årets støyutgivelse.
Om du er en Lasse Marhaug-komplettist, har du antakelig ikke penger, fritid eller skapplass til så mye annet. Støykunstneren har rundt 200 utgivelser bak seg, og mange av dem har vært tapt i tidens tåke, tilsynelatende fordømt til sakte forvitrende magnetbånd med ulike grader av tilgjengelighet. Men nå er mye av dette gamle materialet samlet på 4 CD-er med rundt fem timer øredøvende kvalitetsbråk. Den første discen spenner over det største tidsrommet, og inneholder mye ymse. Illevarslende vokalsamplinger og kroppslyder møter vegger av sonisk død, før disc 2 tar over med en mer tydelig Marhaug. På den siste halvparten av samlingen møter vi Marhaug som eksperimentlysten og i støyens eliteklasse. Det er til og med gjort plass til låter på rundt halvtimen i denne viktige samleren fra Norges fremste støykunstner. Bare ikke hør gjennom hele samlingen på én gang.
(Walter Wehus, Bergens Tidene)