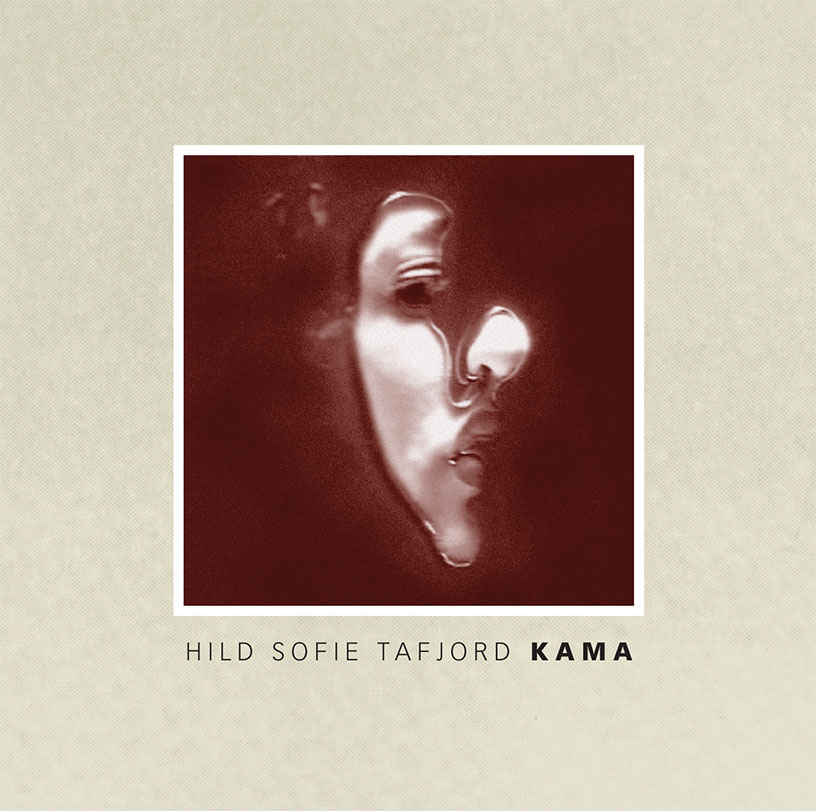 Hild Sofie Tafjord: Kama

Pica003. CD. Released autumn 2007. Audio sample

Hild Sofie Tafjord has been known to the public for over a decade as part of projects like SPUNK, Fe-Mail (her duo with Maja Ratkje), Agrare (Fe-Mail with dancer Lotta Melin), Trinacria (Fe-Mail with black metallers Enslaved) and collaborations with Birchville Cat Motel, Wolf Eyes, Matmos, Ikue Mori, Otomo Yoshihide, Carlos Giffoni, Zeena Parkins, Fred Frith and countless others. She has released albums on labels like Asphodel, Rune Grammofon, ECM and Gameboy Records. Her main instrument is the horn, but other acoustic instruments as well as metal objects and noise electronics has always been an intregral part of her pallet. Hild Sofie Tafjord is, quite simply, an amazing performer, composer and improvisor with a broad musical range. After consistent touring and performing around the world for years she has built a big fan-base of people who all ask themself:
When the hell is Hild Sofie going to record her solo album?
Finally, the wait is over. KAMA is here. A monumental 41 minute colossal single-track of an album recorded in the period from summer 2006 to february 2007 during dark nights in her studio in Oslo.
KAMA is mostly made from the sound of her french-horn; although if you didn't know it you probably wouldn't have guessed. Layers upon layers of distorted, processed and mangled pieces of sound form a consistent stream of sonic bliss. Within this massive sound-construction slowly shapes build into an epic climax. The title KAMA hits at few interpretations. A quick wikipedia search tells us that KAMA could be a number of things; a double edged dagger, iron pots used in tea ceremonies, and indian for lust (as in kama sutra). Well, who cares what it means when it feels and sounds this good?! Hild Sofie Tafjord's debut album is here, and it has been worth the wait.

Reviews:

HILD SOFIE TAFJORD: Kama
Back to Scandinavia: Norwegian noise musician Hild Sofie Tafjord is a member of the duo Fe-Mail (which reminds me, No Fun's soon -- at the Knitting Factory this year), SPUNK, and Trinacria (with members of the supremely excellent Enslaved). She's also collaborated with Wolf Eyes, Matmos, Carlo Giffoni (No Fun echo), Birchville Cat Motel, Ikue Mori, Fred Frith, etc. I pull out the laundry list because Kama's her first solo album -- and truly a beaut. It's one 41-minute track with Tafjord's French horn layered and mutilated into a Merzbow buzz. (She's best known for horn, but also takes on flute, electronics, and sheet metal et al elsewhere.) Recorded in Oslo between September 2006 and February 2006, it builds and mutates, gaining force, cicada-buzzing, and extreme heights during its run. (Conversely, the handmade-sorta packaging via Pica Disk is really sweat-- the CD slip case has some sorta felt in it, to keep the disc scratch free.) What I love most, though, is that it comes up as Diana Krall's Na Ka Ta Ni in my iTunes. We can't post all 41:06, but here's an excerpt via label head, Jazzkamer, DEL, Nash Kontroll (etc.) dude, and all around Norwegian noisemaker, Lasse Marhaug. If you dig this wee monstrous gale, search out the rest via Pica Disk. (Brendon Stosuy - http://stereogum.com/archives/cat_the_outsiders.html)

HILD SOFIE TAFJORD - kama (CD, picadisk)
When the source sounds are being manipulated so strongly and dense, that they form something completely new, that hides the origin just as completely, is it then important what the original source is? For example, is it important from what kind of electronic sources artists like Masami Akita or Lasse Marhaug draw their sound sculptures and explorations from, when the result is of such strong impact? Yes, it is. I do believe that just as every question carries its answer in its genes, no matter how much you transform or manipulate something, there is something remaining of each stage of its transformation in the result. Something you might not be able to see or hear on the surface, but that permeates through the layers of thick noise or greyness and influences its perception, even if only on a subliminal level. Just like the history of mankind that is stored somewhere in our DNA.
The french horn is a rare instrument, in its homebase of classical, probably mostly baroque music, as well as in any other musical genre. Even in avantgarde or experimental circles, the french horn is rarely seen, albeit the penchant of fringe musicians for fringe instruments. The french horn has a warm and tender sound, able to be blown gently and romantically, but also with a certain degree of wildness, which made it a choice instrument for romantic gestures and musical figures of nature blooming. The french horn, apart from some overblown instrumentation on recordings by the Beatles and some of their colleagues during the heyday of LSD-usage in the studio, never was able to transform into the modern music language in any form.
Hild Sofie Tafjord is an experimental musician that has been around quite a bit. She performed as Fe-Mail together with Maja Ratkje, who formed Trincaria together with the metal band Enslaved. She worked with Birchville Cat Motel, Wolf Eyes, Matmos, Zeena Parkins, Fred Frith and many others. Her work can be found on records from labels with interests as far apart as ECM and Gameboy and Rune Grammofon. And most of all, next to some other things, her main instrument is the french horn and she uses it to explore completely new and unsailed waters on the landscape of this instrument. She extracts, manipulates, condenses and inflates the sounds of the french horn until its origin is lost and new, exciting sounds come up. It seems as if she is also using all kinds of contact mics to record the sound of the instrument itself as well as the soundwaves when it is being played. She expands the vision of the french horn to a new width.
"kama" is one long, single piece of music Tafjord recorded from 2006 to 2007 and it spans a wide range of droning noise to droning noise. My favorite parts are those with some low and subtle crackling noises and longwinding, melancholic, sort of metallic sounding horn sounds lay over that. Like a ship gently floating through slowly freezing passages in the north. Sometimes subtle pulses arise and fascinatingly add a very human warmth to the piece. At various parts there are dynamic and sometimes even chaotic shifts, harsh noises breaking through or just a rising level of distortion. Sometimes Tafjord shifts layers on top of more layers to produce an ever more interesting trip down and back to more simple areas. It is hard for me to get to grips with the structure of "kama" because magically its form seems to shift everytime I hear it. And since I am completely averse to the idea of taking notes while listening to music, I am stuck with the simple impression of a very moving and always shifting work of art and the only thing I can say for sure is, that it seems to be getting a lot louder towards the end.
All in all "kama" is a very fascinating piece of music. It is in some respects old school fringe noise, but it is also very refined and special, and if you let it, it is able to shake you. The more subtle and sublime noises in the beginning open up the doors and pathways for your subconscious to step out into the light. While the harsher and more massive noise at the end will induce a slight dose of paranoia into your vision and you'll be turning around checking for movements when you know perfectly well that there is no one else here but you. Effective in all respects.
By the way, this is the third release on Lasse Marhaug's new label. The first one was his mighty 4CD-"tapes 1990-1999"-box. Upcoming are releases to be expected by Oren Ambarchi, Hijokaidan, Birchville Cat Motel and the Incapacitants. Good Luck! I used to like Jazzassassin a lot when it was still around. The Scandinavian Noise Manifesto or the Aube/Marhaug split CD still ring in my ears. Those are some high expectations. (Cracked)

HILD SOFIE TAFJORD - KAMA (CD by Pica Disk)
You could wonder if an active improviser as Hild Sofie Tafjord needs a solo record? She is a member of Spunk, Fe-Mail, Agrare, Trinacria as well as an improviser with Wolf Eyes, Matmos, Birchville Cat Motel, Ikue Mori, Fred Frith and many more. I wonder: when does she have the time to record anything solo? At night, it seems, from the summer of 2006 to the winter of 2007, in her studio in Oslo, we find her with a French horn. It says so on the cover, as it's not easy to believe. There are traces of a French horn in the opening bits of this work, but sooner than later things explode into quite a noise blast of distortion, grunting tones. It might be a French horn. It might. However don't expect this to be a work that is a full on blast throughout towards the very end of the disk. It's much more than that. Tafjord knows how to pull back the brutality and you can find here producing raw, loud, but sparse tones, somewhere around the fifteen minute mark, before building up again. Fifteen
minutes and through another cascade of noise, the work finds itself in a rather heavy rhythmic mood - deep pulsating, almost like early industrial music. 'Kama' is a noisy beast, but it's more than just being a noisy beast. Tafjord uses the right amount of computerized doodling in combination with shifting textures to deliver a great release. Great noise this is. (FdW, Vital Weekly)

Hild Sofie Tafjord - Kama [Picadisk - 2007]
Kama is a complex sometimes violent, sometimes beautiful long form piece that brings together haunted ambient textures, drone, noise, dramatic cinmatics and manipulated sound elements into an involving and muilt-layered piece.
Hild Sofie Tafjord is one of the most respected female names in noise known for projects such as; SPUNK, Fe-Mail (her duo with Maja Ratkje), Agrare (Fe-Mail with dancer Lotta Melin), Trinacria (Fe-Mail with black metallers Enslaved), as well as numerous collaborations with the likes of Birchville Cat Motel, Wolf Eyes, Matmos, Ikue Mori, Otomo Yoshihide, Carlos Giffoni, Zeena Parkins, Fred Frith. Even though she's prolific this is her first fully solo album & it's also the second full lenghty release on Norwegian noise legends Lasse marhaug Pica Disk label after his superb tapes box set.
The forty minute piece goes from slow melodic drone unwinds, to atmospheric airs that take in elements of the blues, jazz and classical genres, to mean and moody noise boils, rhythmic stomps and bizarre alien like sound untangles. The noise attacks and swipes teem with many layers and elements of different texture and clever structure. The peicec moves along at an often breathtaking, sometimes atmospheric pace, with the building sound and falling of sound done in a most rewarding and often unpredictable way.
With such a large display of different sound,textures and genre traits on display it's amazing to find out that most of this is derived alone from Hild Sofie Tafjord French horn playing, which I presume she then must have fed through peddles and manipulated the sound somehow. All in all a great example of highly creative and involving noise craft- that offers up new elements and angles with each new play. And proof positive that Lasse Marhaug really means business with his label. (ww.musiquemachine.com)


Hild Sofie Tafjord
Kama
(Pica Disk)
Noise
Hild Sofie Tafjord (Spunk, Fe-Mail) live på GAS-festivalen i höstas var en urstark upplevelse. Djävulsk volym, men omtumlande, brutalt vackert. Tafjords solodebutalbum - ett stycke på 41 minuter - startar meditativt för att under den andra halvan förvandlas till vibrerande slamsor av frekvenser. Hon använder sitt valthorn som huvudsaklig ljudkälla, förvränger, legerar, och skapar en mångbottnad klangvärld. Skikt efter skikt luckras upp, musik lika öppen som distinkt, en vidunderlig noisekomposition. (Göteborg Posten)