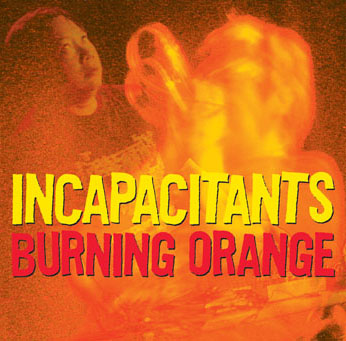 Incapacitants: Burning Orange

Pica006. CD. Released winter 2008. Audio sample

Incapacitants needs no introduction; the duo of Fumio Kosakai and T.Mikawa; veterans and originators of Japanese noise music; cult band number one for noise fanatics worldwide; a band whose infamous status as the best live noise act ever has continued to grow over the years because the duo almost never plays outside of Japan.
In January 2007 Incapacitants performed live, for the second time in Europe in 25 years, at the All Ears festival in Oslo Norway for an overly enthusiastic audience (people from all around Europe had travelled to see their heroes). The band later described the two shows as highlights of their career.
Burning Orange documents these concerts. The CD consists of two complete sets; one Incapacitants as a duo and on the second joined by finnish noise-connoisseur Tommi Keränen (Testicle Hazard) as a trio under the name of Fumio Tommiakawa (a take on Gomikawa Fumio; the trio of Pain Jerk and Incapacitants).
The sound of Incapacitants is described in the liner notes of Burning Orange by Tommi Keränen as "an inspiring, pure, all-encompassing, ecstatic storm of sound that has a power of near-religious proportions – and that alone, without any unnecessary gimmicks". That celebratory ecstasy certainly comes across on Burning Orange, of which Keränen also handled the post-production under the supervision of Mikawa.

Reviews:


Incapacitants: Burning Orange CD

Of all the musicians in the world employing the typical guitar/bass/drums setup, only a handful have produced or are producing interesting material. If it's that difficult carving out a singular niche using the basic tools for your average individual, especially when our critique isn't based on virtuoso performance (and in indie terms it rarely is), imagine how much more difficult it is to single out the cream of the crop.
This is especially true with noise, in which it's relatively easy for anyone and everyone to make recordings. For every Wolf Eyes or Prurient, there are a thousand more faceless groups or individuals making the best of it with what they have. I'd be willing to bet that a select few of them are producing astounding noise that no one will ever hear, but I'm betting the majority make hackneyed attempts at being the most intense, most violent, loudest, etc. etc. Meanwhile, the average person (i.e., not noise aficionados) could hear two completely different noise albums and wouldn't be able to tell you the difference between, say, Merzbow and Whitehouse.
All respect is due to Incapacitants, a duo that has been around since the early 1980s. For once, the singular claim that Incapacitants are the "most fun" noise group in existence is evidenced within the first few seconds of Burning Orange, a live album recorded in 2007. The squiggly feedback that soon enters in "Orange Smoke" sounds like it was produced by two guys who, for lack of a better description, "just don't give a fuck" and want to have fun. That Incapacitants' T. Mikawa and Fumio Kosakai are capable of giving the listener that feeling on a noise record is pretty astounding. That they're able to maintain this over a track lasting nearly 30 minutes is downright miraculous.
The album's other track is another epic piece, but this one is credited as Fumio Tommikawa, because it's a collaboration between Incapacitants and Tommi Keränen. I'm not sure if it's Tommi's presence that causes "Out of Schnaps" to lag a bit, but the track lacks the dexterity of the album's first half. It doesn't mar the overall experience of hearing Incapacitants whip up a wall of squelching electronics and pure white noise, however.
Burning Orange is a pleasantly effective, engaging experience. It's a must-have for Incapacitants fans, but your average listener is likely to give less than a shit about it. For me, it definitely inspires a more thorough search through a hefty back catalog to find the albums that helped define these guys as one of the most important Japanese noise artists. While Burning Orange isn't the best starting point in Incapacitants' discography, it's still far more interesting than what most noise groups tend to release as studio fodder.
1. Orange Smoke
2. Out of Schaps
by Joe Davenport (TINY MIXTAPES)


INCAPACITANTS – burning orange (CD, Pica)
Another month, another great release on picadisk, another legendary Japanese Noise outfit: the Incapacitants, who are Fumio Kosakai and T. Mikawa and who should really need no introduction, because they have been around for so long doing their thing so uncompromisingly, that their cult status is safely cemented within the rounds of noise freaks globally. It is also safe to say that Lasse Marhaug uses the All Ears Festival to lure all his favorite acts on a stage, where he then can direct collaborations and obtain recordings of their sets, which – having fully grasped the idea of synergy and value chains – he than may use to fuel his new label Picadisk. All for the greater good of mankind, of course. No, though that might sound cynic, at this point I am totally serious. The Incapacitants have only been to Europe to play shows once in the last 25 years, so thanks and thanks again for this event and the documentary of it. Also check the release for Hijokaidan, which measures the same sentiments.
The Incapacitants played one half hour set on January tweltfth 2007 and it is really hard to describe. The duo produces an impressive two-layer noise stream – each one of them on his own set of noise machinery – with some distorted screaming on top. It is a chaotic, ever changing, harsh and encompassing wall – or several walls – of noise that seem to be moving into all directions at once, and even though there is such a high dynamic within these noise floods, after several minutes of exposure the whole thing starts to sound, or rather feel because the sensory system will have changed to purely subconscious experiencing by then, very compact and dense. Either because the Incapacitants have started to fill all the holes and settled for a narrower range of frequencies than in the very open beginning, or because your brain has already melted down. Or a bit of both. The frenetically jumping and changing frequencies within the floods of power noise are a unique feature of the sound of the Incapacitants, and their task seems less like producing the music but rather trying to control or tame it.
On January thirteenth 2007 Tommi Keränen from Testicle Hazard (what a name, makes me cringe on reading already…) joined the Incapacitants on stage under the project disguise of Fumio Tommikawa – a moniker only the best versed visitors of the festival would have been able to decipher without closer help of the organizers. The roughly twenty minute set is also available on this disk in its full length. Its title, "out of schnaps", ma give you a hint at the direction – it is like Incapacitants, but with another, just as harsh and uncompromising layer of noise. Due to a different recording technique, the sound is somewhat different on the two sets, but actually it doesn't make much difference. Fumio Tommikawa start with about 30 to 60 seconds of low bass freak noises before getting a full blast on for almost twentyfive minutes. This set is probably more towards the bass end of frequencies, has less of the yelping, frantic high frequencies and seems more compact and dense white noise overall, but it is just as energetic, all-encompassing, no holds barred noise power as there will ever be.
The All Ears festival 2007 had other great artists on the bill as well, like Mats Gustaffson, Ikue Mori, Hild Sofie Tafjord, Campell Kneale aka Birchville Cat Motel and others. I haven't been there but it is hard to imagine that anything else was able to stand up to this enormous blast of noise. Actually, I wonder if the hall the festival was held in is still standing. There is just one thing I wonder about: if such legends of improvised noise come to Europe for the second time in 25 years and spend two das playing half hour sets at a festival, what do they do with the rest of their time? I cannot imagine sensais Kosakai and Mikawa hanging about doing nothing at all just as I cannot imagine them going through the city taking snapshots of all the sights they come across. So what? (http://www.monochrom.at/)

HIJOKAIDAN - POLAR NIGHTS LIVE (CD by Pica Disk)
INCAPACITANTS - BURNING ORANGE (CD by Pica Disk)
(Lasse Marhaug's new label released the above recorded live at All Ears festival in Oslo - both have a mixed line ups - Jojo and Junko performed as a Hijokaidan for track one (No Oslo No Harm ) of their disk - the subsequent two being Jojo with guitarist Per Gisle Galåen (Book Of Changes) and Junko with Sten Ove Toft (Le Rayon Verte), whereas the other disk has Incapacitants - Fumio Kosakai and T.Mikawa on track one (Orange Smoke), followed by (Out Of Schnaps ) by "Fumio Tommiakawa" who are- Kosakai and T.Mikawa with Tommi Keränen.) Coherance (what I mean here is all at onceness) cannot communicate, only difference can, whatever communication is, if it exists at all - noise does not communicate - it is the problematics of any communication system (Nyquist-Shannon law), it is immanent - not delayed - not teleological, neither signifier or signified ergo common to both these disks is a remarkable demonstration, both opening tracks of Hijokaidan and Incapacitants are noise, and the
others in their interplay *are not* - do communicate, they are the arch human tendency to represent (by interplay, recognition, pulse, improvisation, desire, becoming, binaryism ∑) and so differentiate from the "throwness" (a bad word) of noise. Remarkably both CDs demonstrate this gulf and they are worth listening to for this apart from the excellence of the performances - though excellence is of course a singling out -we can predicate the non-noise works - even anticipate- as an audience member obviously does! on Le Rayon Verte (almost classically silly!) - and can not of course hope to represent the - un-representational of the totalising presence of the noise works of Hijokaidan and Incapacitants - again - ambiplasma - organs without bodies the Meer der Brustwarzen of the Ephesian Artemis. (jliat, Vital Weekly)

Lasse Marhaug's Pica Disk label continues to nail its noise-loving colours to the mast and has spewed out two tasty releases of unlistenable Japanese noise in very attractive little wallet packages. Polar Nights Live comes to us from the inimitable veterans Hijokaidan, and assaults you with three lengthy excerpts from 2006 concerts recorded in Oslo by John Hegre. Actually Hijokaidan proper only appear on the first track, remainder of disc being intriguing team-ups between the guitarist (Jojo Hiroshige) or the vocalist (Junko) with Nordic musicians. Junko's shrill vocal blasting is kinda hard to sit through, but this release looks like an essential scorcher of anti-social dimensions! Unlike Hijokaidan who almost resemble a band of sorts, Incapacitants are pretty much pure table-noise as evidenced on Burning Orange, a record of live recordings from a 2007 Oslo Festival. You get 28 minutes of the Japanese duo working their knobs like dosed-up monkeys, then a further serving of same supplemented by guest Norwegian Tommi Keränen. An airless bubbling delight of vicious electronics. (Ed Pinsent, The Sound Projector blog)


Incapacitants - Burning Orange [Pica Disks - 2008]
Burning Orange brings together two long pieces by this Japanese two piece noise project, who grow to a three piece on the second track with help from Finnish noise- head Tommi Keränen (Testicle Hazard), & it's all recorded in suitable loud yet clear volume from last years All ear festival in Oslo.
The first track Orange Smoke starts with tangles of swarming amped up voices & screams before crash into moving plates of grating noise like been in the middle of an earthquake in the middle of a steel factory. As the track progresses the pair build up an impressive dense sound that's always shifting and offer up new elements of stretching, pulsing or boiling sound. At about 17 minutes in to this 28 minute track they build up a wonderful roaring low down wave of sound, to which they press-in sharpe yet appealing diamonds of electro feedback, screams and rips. At times the vocal overloads brought to mind a feeling of almost very nasty and stuck hardcore rants.
The second track entitled Out of Schnaps starts with what sounds like microphone scrapes and shorts over what could once have been music. You keep getting hints of structure and easy listening jingle-ness, but it's never allowed to fully formed long enough for your ears to fully define it. Before long the track starts to build up depth and shape having this great feeling of juggling textures. There are almost harmonic vocal moments been pushed ever so often into the fore for seconds at a time, along with this demented and bent snake charmer like element that could either be stretched and abused easy listening or guitar screams (or possible a bit of both).
Though both tracks are highly rewarding the second stands as my favourite here, with it's feeling of nearly becoming musically and structured but never fully getting there. The disk is package in a full colour (& very orange!) sleeve. With a short write from Tommi Keränen which tops off rather nicely this near on an hour of heavy weight noise cooking. (www.musiquemachine.com)