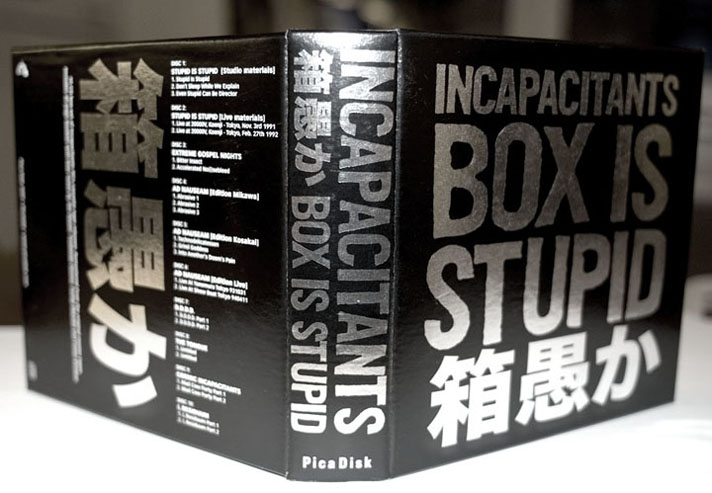 Incapacitants: Box Is Stupid

Pica008. 10 x CD Box-Set. Released january 2009. 500 copies.

Box-set reissue of Incapacitants 90's cassette tapes
CD 1: Stupid Is Stupid (Studio materials)
CD 2: Stupid Is Stupid (Live materials)
CD 3: Extreme Gospel Nights
CD 4: Ad Nauseam (Edition Mikawa)
CD 5: Ad Nauseam (Edition Kosakai)
CD 6: Ad Nauseam (Live)
CD 7: D.D.D.D.
CD 8: The Tongue
CD 9: Cosmic Incapacitants
CD 10: I, Residuum
• Remastered from the original DAT master-tapes by Tommi Keränen under the supervision of T.Mikawa.
• 40 page colour booklet with extensive liner-notes by Fumio Kosakai, T.Mikawa, Otomo Yoshihide and Jim Sauter
• Each disc packaged in an individual wallet cover with original cassette artwork
• Booklet and discs housed in a solid box
• Limited editon of 500 copies
"I love Incapacitants more than anything. My love for them is reaffirmed as I listen again to their many cassette releases. They're simply cool. Too beautiful." - Otomo Yoshihide
"In short, for me it's the ultimate rock n roll." - Fumio Kosakai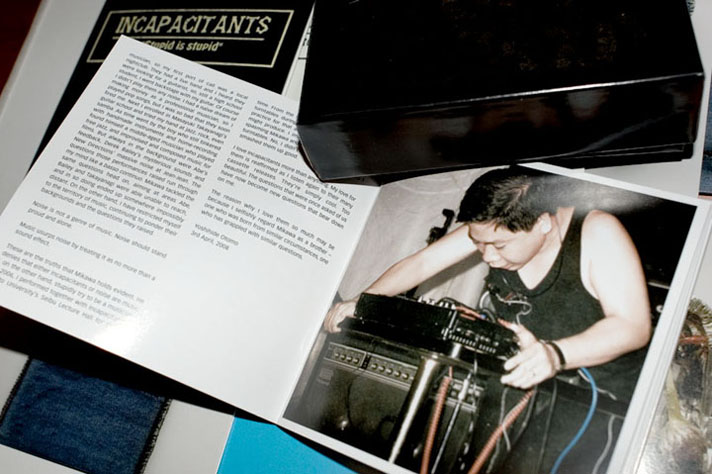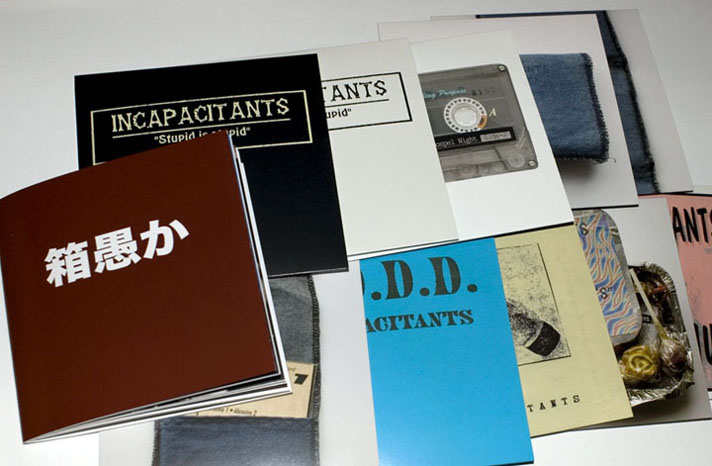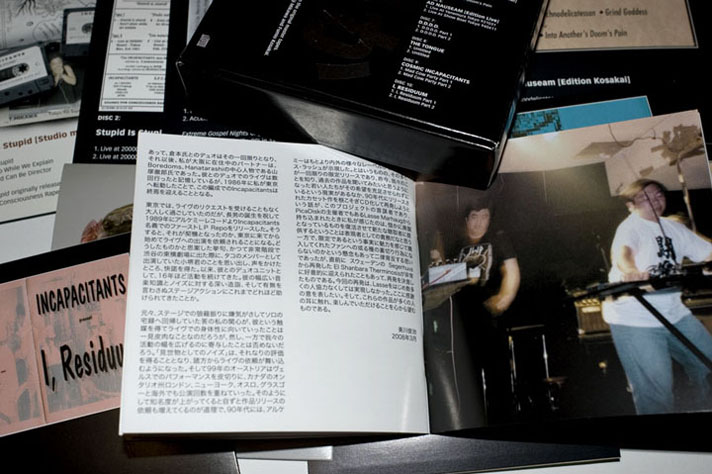 Reviews:

Incapacitants: Box Is Stupid

As far as I'm concerned, the Incapacitants are THE best noise band to ever come out of Japan. While they aren't as prolific or esoteric as some of their contemporaries, they've consistently been responsible for some of the most complex, chaotic, loud, and downright fun releases in the genre. Here, almost all of their cassette recordings have been complied into a lavish, lovingly presented 10 CD box set that stands up proudly with any other large-scale reissue release, and the material sounds as fresh today as it did some 10 to 15 years ago.

It's hard for me to not speak in hyperbole when discussing this set. Rather than focusing on esoteric artsyness (e.g. Aube) or clichéd serial killer and prostitute murders (early Whitehouse and a large proportion of US noise bands), the Incaps are just two regular guys who, after their white collar jobs are done, like to get together, crank up the homemade electronics, and have a seizure of fun behind the mics. Any Youtube search of their performances will make this painfully obvious: they dance, they wrestle, they jump around, and it all looks like a hell of a lot of fun. The best thing about the actual output from these guys is the sheer complexity of sound. As far as noise artists go, few can match their dynamic, layered sound that each subsequent listen reveals some new sound or tone that didn't seem to be there before.

Presented here are seven of their early cassette releases, spread across ten discs: Stupid is Stupid (one studio and one live disc), Extreme Gospel Nights, Ad Nauseam (originally three cassettes: one of Fumio Kosakai solo, one of T. Mikawa solo, and a collaborative live tape), D.D.D.D., The Tongue, Cosmic Incapacitants, and I, Residuum. The Incapacitans sound is a consistent one: layer upon layer of overdriven electronic noise above which the two salarymen take turns shrieking or growling into a microphone. That's not to say there aren't subtle variations: a comparison of "Stupid is Stupid" and "Don't Sleep While We Explain" from the first disc alone show this: the former is all low end crunch and occasional death metal guttural growls, while the latter is more high frequency tones, siren textures, and higher pitched shrieks.

Comparing the studio and live recordings it's quite obvious the band isn't spending a lot of time in the studio in post-production or multitracking, but the feel between the two is distinct. The natural reverberations and different environments create a different sound in the live setting: the Stupid is Stupid live tracks allow much more of the vocals through, the chattering electronics still there and forceful, but the voices not as buried. The live disc of Ad Nauseaum is a different beast entirely: lots of static and ambient noise makes it feel more like a crunchy, grimy bootleg recording (in the best possible way).

The solo discs also show the separate parts that make the whole of the band: Mikawa's disc is all sustained metallic industrial roar, while Kosakai's is more idiosyncratic, the first track "Technodelicatessen" being a goofy pisstake on dance music that could be a lost Front 242 remix, while the closing "Into Another's Doom's Pain" is muffled raw power electronics and divebomb tones mixed with some bizarre vocalisms. One of the more dramatic shifts is in the latter portion of these discs. Cosmic Incapacitants is an appropriately titled release, because it filters the boys' usual din through a mess of flangers, echos, and phasers to give a distinctly 1960s sci-fi meets psychedelic substances feeling, even more so than Kosakai's other band, C.C.C.C., ever did.

Lasse Marhaug and his PicaDisk label must be commended for the presentation of this work. All ten discs are in their own individual sleeves reproducing the original cassette artwork, or in the case of the oddly packaged Ad Nauseaum and Cosmic Incapacitants, detailed photos of the original releases, and it comes with a great 40 page booklet featuring liner notes by Mikawa and Kosakai, as well as Yoshihide Otomo and Jim Sauter of Borbetomagus, and some photos of the band at work. It's obviously something done out of a love for the band, and it shows.

Not to sound elitist here, but this isn't the kind of thing that will appeal to people who have heard "a Merzbow disc or two" or "that Wolf Eyes album on Sub Pop". It's aimed more at the established noise fan who knows their Masonna from their Government Alpha. But, for anyone with an inkling of interest, it's a wonderful time capsule from the Golden Age of Japanese Noise that anyone can enjoy.
(Creaig Dunton, Brainwashed.com)

incapacitants "box is stupid" decuple compact disc boxed set

december 2008 release ; insanely labor-of-love oriented release (that would be both lasse marhaug's labor and his love), culled from mr. mikawa & mr. kosakai's 1990s cassette releases ...

ten discs, each housed in their own individual full-color sleeves with a fat book/let with texts such as otomo yoshihide's "i love incapacitants more than anything," jim sauter (borbetomagus)' "who the hell are these guys?," kosakai's "i'll meet you in the subprime" and mikawa's "the history of incapacitants." (all in both english & japanese) & tons of concert photos & action shots (you certainly can't argue with :: ... if only every gig looked like this !!!) all sandwiched in a striking black box with silver-foil stamping ...

students of the 90s cassette underground will be in heaven here ; tapes originally produced for/by such labels as sounds for consciousness rape, vanilla, banned productions, old europa cafe, chocolate monk, betley welcomes careful drivers, and less than zero are reproduced, with original art & liners ...

this is considered by many an astute scholar as this year's "parmegiani box," (mainly as there's a similar spec at work here - but also as the value both as entertainment and as a time-capsule for those by-gone days is evident from the second you crack the box's seal) ...

seriously ; no home with even the basic curriculum of 90s japanese noise on hand should be without a copy ...

mms' copies come directly from lasse's oslo stronghold &, frankly, the price is extremely reasonable for the sheer amount of ear/eye-opening (prying, more like it) material on display ... highly recommended !!! (www.mimaroglumusicsales.com)

Incapacitants - BOX IS STUPID - Pica Disk

In these troubled times of armed conflict, global warming, financial crisis, job insecurity and depression on every level, there aren't many occasions to rejoice. There aren't likely to be many for a while either, but at least we now have the ideal soundtrack to accompany the end of the world: cryptically entitled Box Is Stupid, it's the work of two fine Japanese gentlemen employed, respectively, by a major bank and a government office. Toshiji Mikawa and Fumio Kosakai are no ordinary salarymen, though. They've been making some of the most unremittingly ear-shattering racket for decades as Incapacitants, one of the most significant noise outfits to emerge from the groundbreaking Japanese scene in the early 1980s, and still one of the most radical and powerful. Initially, Incapacitants was a recording-only solo project of Mikawa, who established his longstanding partnership with Kosakai when he moved from Osaka to Tokyo. Over the years, the duo made quite a name for themselves with their uncompromisingly extreme sound and apocalyptic live performances, recognition that spread to Europe and North America after 1999, the year of their first gig outside of Japan. In 2007 they travelled abroad twice, to perform at the All Ears Festival in Oslo and at Carlos Giffoni's No Fun Fest in New York. Both gigs were subsequently released on CD, the Norwegian show as Burning Orange on Pica Disk, an increasingly essential label run by noise activist Lasse Marhaug.

Thinking – rightly so – that Incapacitants are ripe for (re)discovery, Marhaug has struck again with an impressive box set of first-rate archive material from the vaults of Mikawa and Kosakai. It's a safe bet to say that, apart from the artists themselves, virtually nobody else has ever heard this material in its entirety, as it was previously released exclusively as limited cassette editions on obscure imprints. With this massive reissue of seven releases (ten tapes), spanning a period from 1993 to 1997, the full Incapacitants cassette back catalogue is now available in digital format, following the reappearance of Pariah Tapes on Finland's Freak Animal in 2006 and El Shanbara Therminosis on Sweden's Segerhuva a year later (why only Scandinavian labels should have undertaken the task remains a mystery..).

Noise has always been closely associated with the underground DIY cassette culture. Predating the era of digital domination, there was a time where artist-run labels putting out primarily, if not exclusively, tapes were legion: Toshiji Mikawa's own Pariah Tapes, Masami Akita's ZSF Produkt, Koji Tano's MSBR Records, Masonna's Coquette, Aube's G.R.O.S.S. or Hiroshi Hasegawa's Endorphine Factory are just a few examples from Japan alone. Though still a fetishized format in some experimental music niches where trading is common practice and sound fidelity not necessarily the main concern, cassettes now tend to be replaced by CDRs, which are easier to self-release. Even worse from the chromium dioxide diehard point of view, the tyranny of durability seems to impose professionally-pressed CDs as the medium of choice for reissuing documents that would otherwise remain inaccessible to new audiences. Lasse Marhaug knows this very well, and launched his own Pica imprint with a commanding CD release of his early tape works. Marhaug, a long-time Incapacitants fan, also has a background in graphic design. Put the two together and you get a pristine edition of 10 CDs containing a total of 8 hours 15 minutes and 3 seconds of relentless sonic onslaught remastered from original DAT tapes, packaged in lovely glossy cardboard sleeves with revamped artwork and accompanied by a booklet of informative liner notes by Mikawa, Kosakai, Jim Sauter (of Borbetomagus fame) and Otomo Yoshihide, which are useful to both the noise connoisseur, who will find interesting points of view as well as historical context, and to the uninitiated, who are left in no doubt as to what to expect: "My intention was consciously extreme – to attack the audience's auditory canals with my noise and thus render them incapable of fighting back" (Toshiji Mikawa). "Noise is neither art nor propaganda – rather it is sheer acoustic pleasure." (Fumio Kosakai). Get the idea? Now let's delve into this thing a little more closely..

Discs 1 and 2 – Stupid Is Stupid (Sound For Consciousness Rape, France, 1993)
A total immersion into the world of Incapacitants. All the main elements are there: analogue equipment tortured to death resulting in a unique, ever-changing sharp metallic crashing ultra-dynamic assault that never stops once underway. "Don't sleep while we explain", orders track two, as if anyone could. CD 1 consists of studio material, and CD 2 contains two live performances recorded in the early 90s in Tokyo, one building slowly to end in extreme confusion, the other close to total chaos from start to finish. Snippets of ecstatic high-pitched gurgling vocals can sometimes be heard buried in the mix – get a taste of the fun these guys were having onstage back in 1992 at http://www.youtube.com/watch?v=taOVp6KxNto

Disc 3 – Extreme Gospel Nights (Vanilla Records, Japan, 1993)
Michio Teshima's Vanilla Records is one of the Japanoise-defining labels, so it's no surprise to find the name of Incapacitants on its artist roster. "Gospel" refers to the place where the recordings were made, so don't expect traditional spirituals. Instead you get some truly alien performances, complete with sporadic screaming of vivisected baboons drowning in the sonic sludge. There are two tracks; "Bitter Insect", probably recorded directly from the soundboard, and the super lo-fi "Accelerated No(i)sebleed", followed by the appreciative howling of the 15 people in the audience at the end, proof that human life can indeed survive an Incapacitants live show.

Discs 4, 5 and 6 – Ad Nauseam (Banned Productions, USA, 1994)
Here comes the pièce de résistance of this box, the aptly-titled Ad Nauseam, originally released as a triple cassette on experimental turntablist AMK's imprint. An ambitious work in three parts – Edition Mikawa and Edition Kosakai (which use the same sound sources but yield very different results) and a third Edition Live in case you still can take more – Ad Nauseam represents a shift from previous releases, and perhaps a deal breaker for some harsh noise fundamentalists, as identifiable structures and even beats (yes, beats!) can be distinguished at times. This isn't a problem, though, as when Mikawa is in control there's hardly any recognizable material to be heard. And when he decides to call each of his three tracks "abrasive", he means it. As hard as it is to imagine, he seems to have his set-up cranked up even higher than before, resulting in a multilayered noise barrage that slowly moves from one dense massive block of sound to another – really thick but with a nice crispy edge throughout. The second edition kicks off with "Technodelicatessan" [sic], a ludicrous title that becomes more meaningful when one reads Kosakai's testimony about how a DJ set by Jeff Mills in 1992 made him realize the potential of frequency modulation through filters. So we finally get to know the nature of those sound sources: for starters, there's some old school techno, gradually dismembered and pulverized at the end of the first track, then something that sounds like a grindcore-infused Godzilla smashing buildings, while the final half hour-long track is under the nasty influence of doom metal, with heavily distorted deep growling, low-tuned bass slowly melting into slimy, deleterious lava flow. The third part documents live appearances from 1993-4: two sets of great intensity that convince us again that the full power of Incapacitants is to be experienced live.

Disc 7 - D.D.D.D. (Destroy Devastating and Disgusting Derivatives) (Old Europa Café, Italy, 1995)
The name D.D.D.D. has nothing to do with the Dynamic Diplomats of Double Dutch but rather is a wink at C.C.C.C. (Cosmic Coincidence Control Center), the defunct psych noise project of Hiroshi Hasegawa (now operating as Astro) and Mayuko Hino. Kosakai was a regular additional member of the group, playing electronics, drum machine and unidentified junk. It's hard to tell if the title is to be understood as a tribute, but, whatever the case, the sound is taken to a new level: a gritty white noise avalanche with little dynamic variation occupies the foreground almost perpetually, while some intense activity can be perceived in the distance, as if a contact mic had been placed inside an ant hill. Brutal cut at 30 minutes precisely (ha! good old c60 days!) and off we go again, side B boldly riding a giant tidal wave with a school of dying whales.

Disc 8 – The Tongue (Chocolate Monk, UK, 1996)
This one was originally issued by the truly eclectic cassette-then-CDR label run by Dylan Nyoukis, Chocolate Monk (which, in addition to a roster of genitalia-oriented artists – Prick Decay, Harry Pussy, Cock ESP.. – has also put out material by the likes of Folk Implosion, Trumans Water and Melt Banana, not to mention an international bunch of noise acts). Here we step into the filthy realm of no-fi: smoking circuits, out of control static, super-grainy abrasiveness, constant saturation and sporadic tape bumps. Not the most crucial recording by Incapacitants but still good to have it available once more.

Disc 9 – Cosmic Incapacitants (Betley Welcomes Careful Drivers, UK, 1997)
The first thing we notice here is the eye-catching cover with its small box full of candies. They look pretty edible but one suspects that they might contain substances a bit more mind-altering than sugar, an impression strengthened when you hear the corresponding disc, which sounds as loaded as the livers of Lester Bangs and Hunter S. Thompson combined. Again a departure from previous outings, Cosmic Incapacitants is a fitting title for this glorious odyssey through celestial bodies. Weird sci-fi B-movie soundtracks seem to be the source of inspiration for the intro, where rusty flying saucers meet early electronics experiments. Blistering waves of warm sounds progressively phase in with solar winds and metallic pulsations to achieve a kind of hypnotic kosmische space music, complete with occasional bell-like and organ-like sonoroties. Definitely a stand-out in the discography of Incapacitants and probably the most accessible material to be found in this box, this is the one to start with if you are a newcomer to the noise field.

Disc 10 – I, Residuum (Less Than Zero, Italy, 1997)
The coup de grâce comes with this overwhelming release from 1997, whose sound is particularly impressive, painfully dense and full of detail – there's very little air to breathe here. It's basically an Incapacitants all-in-one featuring the trademark frenzy, colourful psychedelics and sonic steamroller, all sounding crystal clear. Perfect to make your head explode, which is what you were looking for in the first place after all.

With such an imposing release, one that stands proudly next to the unrivalled Merzbox in the pantheon of intimidating box sets, Incapacitants have not only secured their place in the history of noise, but also demonstrated that noise can stand alone, absolute and vibrant, without the transgressive imagery often associated with it. Incapacitants never had to splash bodily fluids onto their audience, like early Hijokaidan or C.C.C.C., or trash gear and venues like Hanatarash; their noise takes root not in violence or gimmickry, but in pure energy. For those brave enough to approach this "stupid" box, be prepared: Incapacitants create inexhaustible chaos verging on the sublime, and take you on a truly excruciating journey toward catharsis. Listen to it as loud as you can, perhaps with a glass of your favourite beverage in hand, and enjoy the end of life as we know it.– Jean-Claude Gevrey www.paristransatlantic.com/

INCAPACITANTS: Box Is Stupid
Insane aces-up collection that bundles re-mastered editions of the cream of this legendary Japanese noise duo's 1990s cassette albums including Stupid Is Stupid, Extreme Gospel Nights, Ad Nauseam, D.D.D.D., The Tongue, Cosmic Incapacitants and I, Residuum. Pretty much the founding documents of the lunatic school of extreme psychedelic electronics, this collection surpasses so much contemporary noise in terms of wit, attack, style, nuance and pure sonic experience that it makes half your record collection seem redundant in comparison. Released on Lasse Marhaug's own label in an edition of 500 copies, Box Is Stupid comes with a 40 page booklet featuring liner-notes and testimonies from Jim Sauter (Borbetomagus), Otomo Yoshihide, T. Mikawa and Fumio Kosakai. Highly recommended. (Volcanic Tongue)

Incapacitants: Box Is Stupid


I believe that they exist group of that or their glue together for some reason (or because are cult, or because you like their style - sound or not, or because is combined with a more general regard that can have or a culture that you like and [exereyneis], etc) or simply check their 1-2 selective circulations simply for the file or in order to have their better moments and continue your course in the musical/sound universe….
such something I would dare to say it is also in effect for incapacitants (well not only [gi]'[aytoys] I could I begin [paraballo] thousands names…)… or you deal only with repo the first lp group (it has [epanekdothei] in cd ago few years from the achemy, in that it had circulated 89) and finish there or you risk all and little farther…
but [as] we say and few reasons for the history… began as the personal vehicle the toshiji mikawa, member in the dues 70 '/beginnings of 80 ' noisy persons hijo kaidan, the season where their sets were not only a bombardment of noise but regular action on the scene. were not also the fewclubs of that season in Japan that litteraly they had at some time been flattened after representations that their… season his toshiji mikawa it will begin personal total playing him [aytoschedia] electronic his with the name incapacitants, precocious recordings and cassettes of that period it had removed ago few years Finnish freak animal (pariah tapes 5cd), with climax the repo that circulated 89 in 300 pieces. that season they roughly become duet…
after somebodies sporadic collaborations with various acquaintances it will propose to him mikawa in fumio kosakai which it had known certain years earlier, acting jointly with him, beginning thus one driving [thoryboistoria]… I will overlook here their various circulations the 90 ', it can [gi]'[aytes] learn or sees no one more or in their page in the improvised music from japan (www.japanimprov.com/incapa/index.html) or even in discogs (www.discogs.com/artist/Incapacitants) in order to I am focused in the recent 10[plo] cd box pica disk (www.picadisk.com) box is stupid that thanks to a mad idea that it finally flew before little time lasse marhaug in toshiji mikawa it was realised and includes all [kassetokyklofories] from the 90 ' (apart from el shanbara therminosis that it had come out 2 years earlier in Swedish segerhuva)…
[tan] [protoeida] ago no month in site lasse I did not believe him, him I realised, for the precision him I only believed after to me him it confirmed himself lasses and ago few days it bursted and in the case… [mai] therefore here now in the office editions_zero in Amfissa not only to hear but also [xanathymamai] various phases 90 '… certain caskets same those where they have relation with old material that [epanekdidetai] functions no time and [sa] "[chronodines]" (if can him says no one thus) you sucks and you flies or in travels depending on the circumstance in various phases which or you have lived (if it is moments where you have lived the season where they were played) or have [akoysta], or… or… or… the beginning here becomes with stupid is stupid that removed legend French [kasetoetaireia] sounds for consciousness rape (www.discogs.com/label/Sounds+For+Consciousness+Rape) the 93, company that her aesthetics with regard to her cassettes was unique, perhaps and catalytic in a lot of cases after with the exception of certain minimal where they came out with a regular cover most were almost regular objects. also the been careful aesthetics of her sound was a other factor that in [xetrelaine] then together her while that season stephane where it ran, it at the same time organised various concerts and other situations in Bordeaux where also her seat while also maintained small but fantastic mail order with various circulations from group and companies that were active or even [yperdrastiria] that season.
their sound here dirty, "[mpoykomenos]" concerning his later development, separated in 2 parts a studio material and 2nd from 2 concerts the 91 and 92. same season Japanese vanilla records (www.discogs.com/label/Vanilla+Records) will almost remove extreme gospel nights cassette of driving dirty noise from a company that in the beginnings 90 their ' (up to means I would say) it removed certain amazing circulations from then Japanese [thoryboscholi] which still had not made the complete turn in the harsh noise sound that will afterwards characterize him from the means the 90 ' and.
ad nauseam in banned production (www.bannedproduction.com www.discogs.com/label/Banned+Production) was from that publications that not only pulled you for their sound but also for their packing… [the banned production other legend American [kasetoetaireia] amk that for many years (at least up to the means/dues the 90 ') was alone that had available material of Italian MB (maurizio bianchi) [(with the exception of various bootleg lp that they circulated from I see also from there occasionally and the commendable re-print of all his cassettes also from Italian murder corporation in the means/dues 90 ', up to that Italian alga marghen [epanekdose] his disks in the beginning of running decade) in accessible price that the prices of his disks he was always precise. but apart from the material mb, she is company that circulated material from various - henceforth classically - underground totals, the collections ne with somebodies from the better moments than group Japanese [thoryboskinis] (it deserves it checks no 2[plo] cdr 'ne - the anthology), as well as enough thematic circulations. impression and here naturally not only the aesthetics but also the "[paketarisma] of" circulations…
before certain years considering the amk that if somebody or some group they cannot nail you with their sound from first 2[lepto] then their circulation does not say nothing therefore began lines with as long as the possible smaller duration, initially with cassettes trying it cuts as long as possible cassettes with very small duration up to that reached in bussiness card cdrs… naturally it was also basic source for circulations or collaborations amk and "source" for somebodies from [trelamenes] recording [kanadoamerikanon] haters total of Canadian gx jupitter larsen that from the dues the 70 ' gives moments of unique devastating nihilistic noise.]
[paketarismeni] in [ntenim] packing separated in 3 sheaths that folded and closed with button they was hidden the 3 cassettes. particularity their that it was in the substance 3 circulations in 1… 2 solos cassettes mikawa and kosakai and finally the 3rd cassette live incapacitants the 93 and 94. cassette mikawa were harsh noise, no something a [kathilotiko], simply good harsh noise material. the kosakai was the revelation for [mena] that showed not only his multifaceted hearings but also various styles. from the rhythmical first piece, in more curiously [ilektroakoystika] and improvisational noise [ichotopia]. finally the live, 3rd cassette is one driving [thoryboset] from that natural paranoia that characterizes live (deserves lowers or searches no one finds video and will occupy) from the one and from the other (as the all box) takes no one and a idea for that was moved soundly the noise scene then when they have begun to be abandoned little by little the most improvisational/[ilektroakoystika] experiments and the thing become clean extreme noise.
d.d.d.d in Italian old europa cafe (www.oldeuropacafe.com), it is their one still diamond, from the one harh noise and from a other company that while (pater) rodolfo when [protoxekinage] it slowly circulated somebodies from the "eccentric" but also [trelamenes] musics of season it began to make turn in more death industrial/neofolk hearings so that change perfectly not only the aesthetics but also the sound of company. I would dare to say that the particular cassette is one from those circulations that from the one give you the stain of group at that time sound and from the other you show a company in the verge between sounds that while in the beginning of previous decade they had not been separated or they had not entered in "[koytakia]" little by little [emoiazan] with worlds that were separated in small pieces…
[I will make one still parenthesis… that season the 95 it circulated el shanbara therminosis in Japanese g.r.o.s.s. akifumi nakajima that it recorded as aube the himself, while being industrial designer created his own aesthetics for the circulations of his company. occasionally as was also the fashion of season under various "orders" limited, more limited, etc… a cassette of one still possible set that [epanekdothike] ago 2 years in Swedish segerhuva (www.segerhuva.se) with a extra piece and [fey] with new cover…]
if wants somebody it distinguishes their certain works from the 90 ' personally I believe that they are sure the tongue and cosmic incapacitants, perhaps because also the 2 circulated in companies that not only belong in my a lot loves but that the aesthetics their their and sound existed also influence for enough new and for enough group that [xepetachtikan] afterwards… the tongue, circulated in chocolate monk (http://chocolatemonk.co.uk/enter.htm, www.discogs.com/label/Chocolate+Monk) of company blood stereo (today), prick decay (then, later decaer pinga), totals karen constance and dylan nyoukis.
with regard to the prick decay with regard to 90 ' he was one from the knownest lo-fi noise totals, so much with the paranoia of their sound, the circulations their their and collaborations but what for his graphic dylan, attendances in inexperiencedly [fanzin] as bananafish, Mr a. the first side of cassette shows more intensely from elsewhere the sound that creates without the so much extreme sound… teased circuits, systems and voices, if somebody removed the deformity the distortion and extreme effects would distinguish a sound of [aytoschedion] electroacoustics electronic. he is not so much intense this in the second side but is equally [panemorfi] and this.
cosmic incapacitants from the other she is one from their circulations that distinguish also in the aesthetics and in the sound… more "[psychedeliko]" concerning the rests, perhaps because fumio he was also one from the basic members of [iaponon] noisy persons c.c.c.c., perhaps because thus it came out to them, perhaps because it suits thus better in the company…. it circulated from , intellectual child phil todd, [gnostoteroy] and from the incredible group ahstray navigations that his sound is one from [gamata] examples lo-fi of/plastic sound. the company that was moved in the all "dirty" lo-fi style and sound circulated one ton from 7", cd, cdr, cassettes in order to she finishes little ingloriously in the beginning of this decade having however she circulates recording that even today sends you with the directness of their sound. their group [sa] anna planeta as an example they re-defined sounds and ideas thathad been tried again [men] but they were offered here again and no as [xanazestamenoi] sounds…
[xanaemfanizotan] of course after one roughly 5[eti] silence with his new vehicle memoris of an aesthete enough ash nav from old removing and at the same time new material! in the cassette however… the packing of cassette was also [panemorfi], box as what use the pizzerias for pasta, potatoes, etc with the cassette and various candies while the lid was the cover and from behind her fly. perhaps one of their most separate and terrible moments…
10[etia] you will finish somewhere there in 97 with the i, residuum in the Italian death industrial company less than zero (www.discogs.com/label/Less+Than+Zero) with a dirty extreme sound that him it breaks litteraly… signal of deposited [alloste] duet that it gives for [chronia] in the noise this intensity rock "n" roll!!!!

Nikolas /Absurd (translated from Greek with Babelfish)


The Incapacitants - Box Is Stupid(boxset) [Pica Disk - 2009]
Box is Stupid is a really luxurious and rather neat boxset that brings together 10 cd's worth of early out print 1990's tape releasers by Japanese noise tearing duo The Incapacitants. It's really a must have item item for any serious and discerning noise fan.

The sets ten disk's each come in a full colour cardboard sleeves of thier own, with original artwork from the tapes on each. There is also a 40 page plush, mainly colour booklet with Japanese and english texts and write up's about the The Incapacitants by Otomo Yoshihide, Jim Sauter(from jazz noise terrorist Borbetomagus), Fumio Kosakai(of The Incapacitants & C.C.C.C) Toshiji Mikawa(of The Incapacitants and many other projects). And it's all packed inside a luxurious and plush hard card black box with sliver embossing on; really this is one of nicest presented noise based sets you'll have ever come across; not quite to Merzbox standards but near.

So it's all very well having nice Packaging etc, but what's the noise and sound like inside I hear you ask?- well unsurprisingly there's a fair bit on offer with each disk lasting near or over an hour a piece. And some of sets highlights come in the form of the following: The lengthy, honking, revered-up & dense Residents like mayhem meets twisted sped-up easy listening and electro discharge of Stupid is Stupid live Materials. The pained, slowed yet wonderful bending of steel hunks of noise that is the first track on Ad Nauseam( Edition Mikawa). The addictive, layered, dense and at times harmonic noisy feedback oscillations of the two tracks that make up The tongue. And lastly the urgent joint tone shriek and feed-back ear smarting wonder of the last disk in the set I, Residuum. There is realy much to like and torture your self with through-out the set.

There is of course, with so much material on offer a few indifferent and not as inspired points on the set, but really that's expected with a collection of this size and scope. Moments like the impressive at first Stormy static walls of the two tracks that fill up D.D.D.D (Destroy Devastating and Disgusting Derivates); which sadly too soon slips into noise monotony, as too little is done with them. But on the whole much of this is rewarding, varied and high level caustic noise, and of course it's also a highly important historic noise document in it's self. So really if you have more than a passing interest in noise this is a must have item; but I would act fast as this is unsurprisingly ltd to only 500 copies, to find out more & see more pictures of the impressive set drop in here. (www.musiquemachine.com)