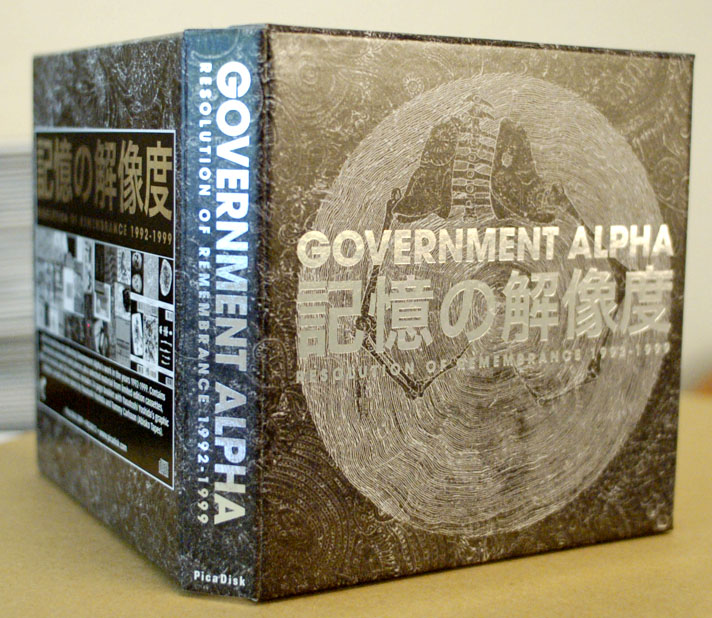 Government Alpha: Resolution Of Remembrance 1992-1999

Pica012. 4 x CD Box-Set. Released autumn 2009. 500 copies. Audio/video sample.

Yasutoshi Yoshida's Government Alpha project started in 1992 and quickly became one of the leading names in the third generation of Japanese noise music. Government Alpha was characterized by its ferociously intense signature sound. Noise fans often speak of a feeling of "pure energy" felt when listening to noise music. Few artists consistently embodies this better than Government Alpha.
Audiences in the West first started to take notice when Government Alpha appeared on the Susan Lawly "Extreme Music from Japan" compilation and vinyl releases on Segerhuva and Vinyl Communications. But at the same time Yasutoshi recorded a series of works released on the cassette format. These were (as often is the case with noise tapes) released in very limited editions. The "Resolution Of Remembrance 1992-1999" box-set is a selection of 62 tracks from these obscure releases in the years 1992 to 1999, released by labels like Harbinger Sound, Mother Savage Noise Productions, Hospital Productions, Utsu Tapes, American Tapes and of course Yoshida's own Xerxes imprint. The first CD also includes previously unreleased tracks from 1992/93.

"An unstoppable natural flow of soundwaves seemingly unfiltered by human presence, as unpredictable a flow as any natural force. Pure Noise, not filtered through, but channelled by the musician. Let me emphasise how happy I am to see this box set being realised. Hopefully it will work as an eye-opener to those who are new to the music of Yasutoshi Yoshida." - from Tommy Carlsson's liner notes

• 4 CDs of 62 tracks, remastered from the original cassette and DAT-masters by Yasutoshi Yoshida
• Solid box with silver foil printing (similar to the Incapacitants box)
• Each disc packaged in an individual wallet cover
• 24 page booklet with liner notes by Yasutoshi Yoshida and Tommy Carlsson (Segerhuva, Abisko) + a number of graphic collage works Yoshida-san
• CD wallets and booklet printed with UV-varnish for maximum visual colour-climax
• Limited edition of 500 copies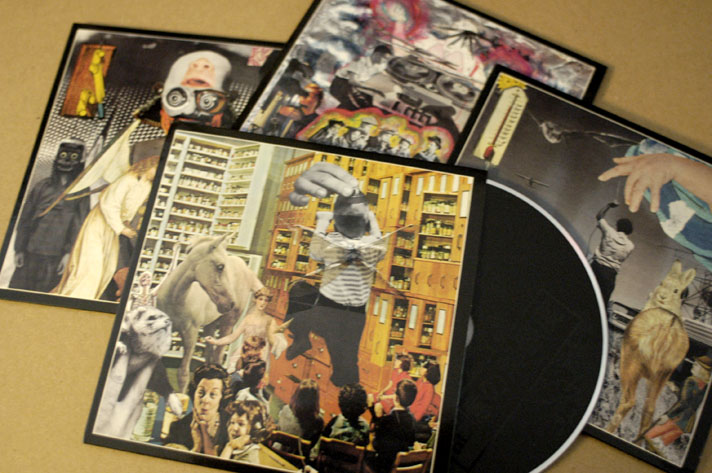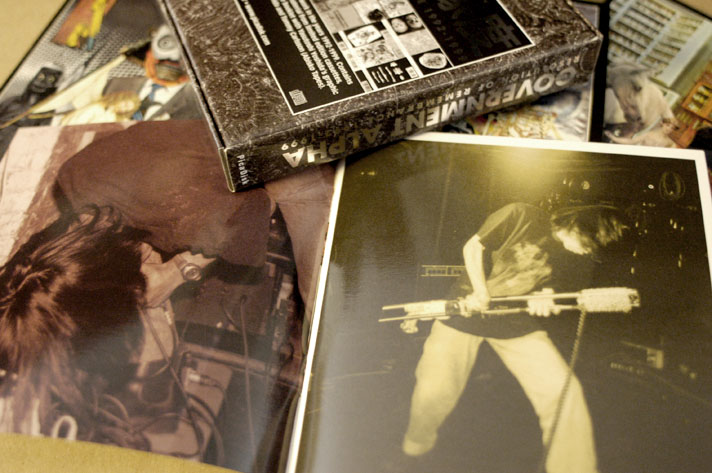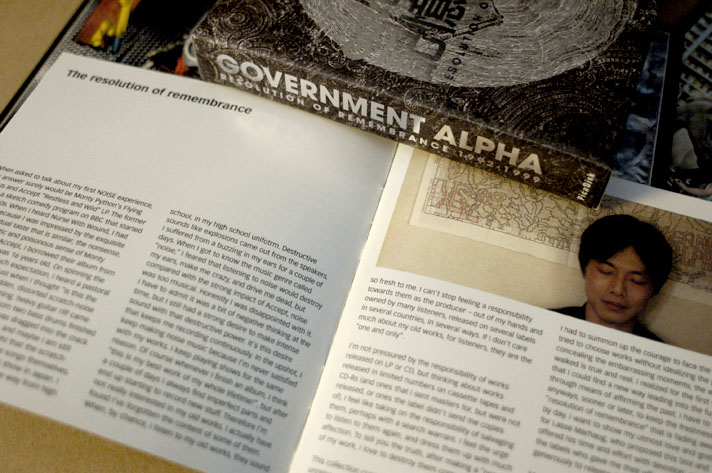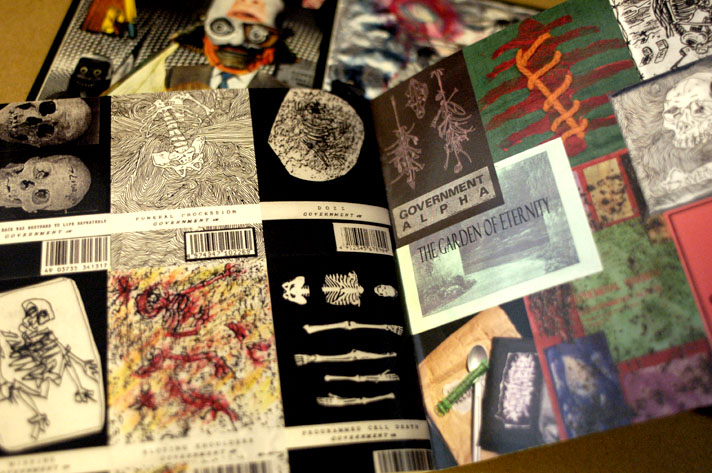 Reviews:

Government Alpha, "Resolution of Remembrance 1992-1999"
Edition of 500 copies 4xCD box from Lasse Marhaug's Pica Disk label that works as a career retrospective for Mr Yasutoshi Yoshida's Government Alpha project. Spanning the years 1992-1999, the box gathers previously unreleased early material alongside limited edition cassettes, lathes and CD-Rs. In the booklet that accompanies the set (which also includes full-colour reproductions of Yoshida's amazing collages) Yoshida cites Nurse With Wound and Accept (!?) as his formative influences and the early material gathered on disc one is, to my mind, some of the most original and affecting experimental work to be inspired by Stapleton's early recordings, with a minimal application of electronics combined with obscured melodies and surreal sound placements. The second disc features some classic harsh noise works while the third disc sounds closest to how I always think of Government Alpha, as one of the more psychedelic of the Japanese noise groups, using keyboards and walls of F/X in the mode of fellow Hawkwind worshippers CCCC. The fourth disc brings us up to date with some of Yoshida's most complex disarticulations of form, with the technicolour euphoria of the most amp-destroying rock totally liberated from any notion of form. This is a well-assembled set and makes for a much more rewarding and surprising survey of Japanese noise than you might well think. (David Keenan/Volcanic Tongue)

Government Alpha, "Resolution of Remembrance 1992-1999"
september 2009 release ; eagerly anticipated canonization of yasutoshi yoshida's earliest recorded work, expertly remastered and issued in the most loving manner possible by über-fan lasse marhaug in a manageably deluxe (i.e. reasonably priced !!!) 4-disc cd box ...
while yoshida's reputation as purveyor of ultra-harsh, cut-up trainwreck noise is preserved even halfway through the first disc, i found myself surprised at the number of non jump-cut &, frankly, beautiful tracks lurking within these early tapes / releases (case in point ; the tonal, organ-cluster bomb highlighted in the sound-sample really wouldn't be out of place on any number of contemporary, post-noise "drone" imprints) ...
as with the incapacitants "box is stupid" the attention-to-detail here is stunning, with each disc in its own full-color, fully-annotated sleeve and a porn-gloss, 24-page booklet offering a smattering of yoshida's detail-heavy hannah hoch-isms in their full, saturated glory ...
pica disk once again raising the bar on the prime-era harsh-noise historical overview set ; just in time for the holidays ... highly recommended !!! (mimaroglumusicsales.com)


Government Alpha, "Resolution of Remembrance 1992-1999"
Lasse Marhaug's Pica Disk label is shaping up to be a powerful force in the world of noise. In the spirit of this year's sprawling Incapacitants Box is Stupid collection, here the work of Yasutoshi Yoshida is compiled from rare tapes and CDRs, along with a nice smattering of previously unreleased tracks. It is a chance to hear the development of one of the modern titans of Japanese noise.

While perspectives may differ, I considered Government Alpha as being one of the first "traditional" Japanese noise artists that was influenced by existing bands of the genre. I always considered the likes of Merzbow, Hijokaidan, and the Incapacitants as the "classics," and GA, along with contemporaries like Pain Jerk, being directly influenced by the older artists, without being contributors to the genesis of the sound. In this regard, the different projects went off in their own directions, capturing the essence of "Japanoise" but taking their own specific approach. Yoshida's work has always been one of hyper-kinetic energy, diametrically opposed to the frozen, massive clouds of noise the Incapacitants or Hijokaidan specialize in.

Each of the four discs of this set are thematically and chronologically separated. The first, Quickening, is perhaps the most diverse and obtuse of all included. Consisting mostly of unreleased early material and self-released tape tracks, here is the artist finding his voice. While there are somewhat one dimensional harsh noise tracks, like "Bruise" and "Thing Origin," there are more experimental moments, like the treated guitar and pitch wobbling "Funeral March" and the jagged house techno synth line that underlies the feedback and junk metal noise of "Mixed Parentage." "Artificial Fertilization" and "Crystalization" are heavily loop-based and come across like a more stripped down, mellow Pain Jerk. Other tracks sound more in league with musique concret and modern improvisation, like the long "Burial Ground" mixing abstract ringing metal textures and other incidental noises with passages of pure noise holocaust.

Sprout, the second disc, marks the period in which Government Alpha became more prolific and ended up gaining more notoriety in the scene. It is here that the sound takes on the dynamic noise quality that Yoshida is known for. Opening with the brutal "Liquefaction," which seems mastered louder than the tracks that follow, there is the immediate bombardment of overdriven low frequency static and shrill sine pulses and feedback. While many who are not acolytes of the genre proclaim that all noise is the same, this is the kind of material that renders their argument null. Even a casual listen reveals a multitude of different layers, tones, sounds, frequencies, textures, etc, that are intermingling throughout. While far more improvisational in their approach, the aforementioned track, and others on here such as "Abortion" and "Insomnia" structurally feel more in league with the best of free jazz, using electronics rather than horns and traditional instruments to generate the sound. A few oddities stick out among the chaos, like the more restrained cut-up piece, "Irregular Behavior," and the almost rhythmic framework under "Electrocardiogram." A few others, like "Siesta" feel a bit too rudimentary to be as enjoyable, but those moments are few and far between.

Disc three, Chaos, is a further refinement of Government Alpha's harsh noise. Here a "style" begins to emerge, one that layers lower frequency static crunches with higher pitched feedback "solos" that come across as an enjoyable perversion of conventional music. "Quoit" and "Quickening" follow this formula, but mix more mechanical crunching noises, like a factory near meltdown, in the other structures. "Vaporizer Pt. 1" steps outward a bit more and adds slowly flanging tones and '70s sci-fi echoes to tinge the sound with just a bit of psychedelia. "Death and Afterimage" displays some semblance of a rhythm, mostly in the form of repeated panning crashes, that painfully shrill squeals appear over.

Diffusion, the final disc, lives up to its title, with the now established Government Alpha "sound" absorbing new and different elements, while still retaining its characteristic action. "Setting Sun" and "Sidewinder Part 2" continue the meld of low and high frequencies, but with a more prominent low end that gives a physical impact. "Thrombosis" demonstrates what sounds more like a basic synth sequence to drive the proceedings, putting an almost industrial sheen on otherwise raw noise. "Stormy Sunday Morning" is lead by what almost sounds like a horribly neglected and processed church organ solo throughout, and "Shine 1" features actual undeniable bass drum rhythms at points throughout. There is a greater diversity to the sound here, but the tracks never sound like anyone else.

Again, credit is due to Lasse Marhaug for his wonderful presentation of the material. Not only is the audio crystal clear and sharp as humanly imaginable, the discs come in a luxurious, foil printed clamshell box (like the Incapacitants box from earlier), while each individual disc is packaged in a glossy sleeve adorned with full color Dada-ist collages from Yoshida, which are also featured in the accompanying booklet, along with liner notes from both him and Tommy Carlsson, in addition to pictures of the original cassette and CDR covers. This is a beautifully presented collection which not only emphasizes Government Alpha's contribution to the noise scene but also further establishes Pica Disk as one of the pre-eminent noise labels active right now. Lasse, you think it might be time to revisit some old school Pain Jerk? (Creaig Dunton, brainwashed.com)

Government Alpha - Resolution of Remembrance(boxset) [Pica Disc - 2009]
Resolution of Remembrance collects together over four hours worth of work by one of the leading modern lights in Japanese noise scene Government Alpha (aka Yasutoshi Yoshida). This four disc box takes in work from between the years 1992 & 1999; with the material coming from limited edition tapes, CDR's, lather-cut vinyl, as well as exclusive never released material appearing here for the first time.
First things first; as we've come to expect from Lasse Marhaug Pica disc label the production, thought & detail that has gone into the box to make it a quality item is highly impressive. The box it's self is covered with of grey patterns and there's a drawing of bones in round spiral design on the front of the box; on the back of the box you find a picture of some of the original tapes boxes covers, and most of the texts on the box have being done in silver foil print. Inside the box you find the four discs, each in a colour sleeve of there own, with each sleeve featuring a distinctive, detail photographic & media collage by Yasutoshi Yoshida. Also inside the box is a wonderfully glossy & full-colour 24 page booklet which takes in an two page introduction to the set & Government Alpha work in general by Tommy Carlsson (Segerhuva, Abisko). A two page write up about Government Alpha's origins & the box by Yasutoshi Yoshida himself, then another two page write-up covering each disc individually. The rest of the booklet is fittingly made up of full colour reproductions of the artwork from the original releases, as well as more of Yasutoshi Yoshida wonderfully collage work.
And so onto the Sonics inside the box; the first disc here is entitled "Quickening" and it takes in work from between 1992 to 1995. This first disc is the most varied, surprising & unexpected of the four disc set. It takes in the projects origins & sees Yasutoshi Yoshida trying out lots of different types of compositions, sounds & way of expressing his noise interest. On offer are 18 tracks in all which range between near the one minute mark to just over ten minutes of playing time; with the disc finding Yoshida going from: the organ drone, hacking & jittering tiny noise atmospheric hover of "Thing Origin", through to the stretched vocal, industrial almost harmonic chopping texture meets radio melting waves of "General Practitioner", through to the muffled & distorted yarning harmonic seas of "Critical condition" which sounds like a prog synth rolls slowed & mashed into psychedelic yet harmonic noise drifts. Onto the wavering & heat stroked audio collages of "Parasite"(which appears here for the first time) which takes in mildly disturbing dog whines, train line field recordings, melted & stretched TV voices, easy-listening reverses & dripping drifts, and all manner of sonic flotsam & jetsam organized in a wonderfully compelling, strange & charmingly noise manner by Yoshida. Really the whole disc is full of surprise & variation through-out & it's a splendid start to the set.
Disc two is entitled "Sprout" and takes in material from between 95 to 97, with the 17 tracks on offer here that are a lot more scourging, dense & shifting then anything found on The "Quickening" & on the whole sound more like you'd expect Government Alpha to sound. The track lengths on the whole are longer too with most tracks hitting between the four to seven minute marks each. The tracks go from overloaded & slow textural sonic noise tears & piercing highs of the opening track " Liquefaction", through to the reversed out dialogue chatter & thumbed noise wave boil/ build of "In a trance", onto the noise bound wasp simmer & sudden sped up whirlwind noise hits of "Perceptive Perception". Through to overload church organ sustain, purring slow-mo helicopter chatter, and jittering electron piecing of "Creaky Pulse". Again it's another very rewarding disc through-out, which shows Yoshida really cutting his teeth in a more conventionally & searing noise setting, yet still managing to sound unlike anyone else really.
Disc three is entitled "Chaos" which is very apt title as the disc finds Yoshida churning out some really fieriest, roasting & textural shifting noise attack through-out. The tracks on this purely come from the year 1998 & there are 13 tracks in all that fall mostly between the five to seven minute mark a piece. We go from the searing, screaming & raging textural storms of the likes of "Blindman's Bluff", onto the hole boring & drilling grey static brutal noise drones of "Erebus", through to brutal bombastic rhythmic noise tonal slapping around the head of "Death & Afterimage" which also seers with a nice higher pitch & pained atmospheric grimy rings too. All told a very unforgiving brutal disc that's also full of invention & interesting sonic shifts.
Lastly we have disc four which is entitled "Diffusion" & this takes in tracks from 1998 & 1999. On offer here are 14 more tracks which fall between the three to seven minute marks a piece. The tone here is once more fairly unforgiving, brutal yet constantly inventive & attention grabbing as Yoshida puts you through his sonic ringer again. There's a more caustic Psychedelic & at times almost fiery & bleak atmospheric edge to many of the tracks here. We go from the revered up & layered radio wave singe & slow kaleidoscopic phaser tones of " Ultra Centrifuge Part 4", through to slow roaring noise & static crunch start of "Sidewinder part 2" which morphs into a more shifting & rapid storm roar noise outburst. Onto the flaying sonic roar, ripping steel harmonics, meets juddering speed- up junk Psychedelics of "The World End with You". Again another splendid, creative, but always searing disc of high class Japanese noise Sonics.
Truly another great & must have noise box-set from Pica Discs which shows the hugely talented & varied noise talents of Yasutoshi Yoshida & his Government Alpha project; with out doubt this is one of the noise releases of 2009. (musiquemachine.com)